Tinsley, Adam (2015) Chester Northgate Redevelopment: Hunter Street and Trinity Street Pre-determination Evaluation. Project Report. Oxford Archaeology North. (Unpublished)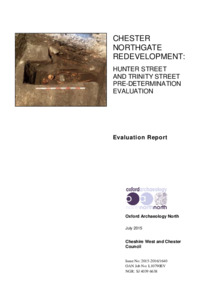 Preview
PDF




L10790EV_ChesterNorthgate_FullRep.pdf


Download (6MB) | Preview
Abstract
The trenching produced important results, identifying probable Roman demolition deposits, at a depth of approximately 0.80-1m below the current ground surface,
within four of the six trenches excavated along the southern edge of Hunter Street, and a probable Roman wall within a single trench excavated in the area adjacent to the
eastern side of Trinity Street. In addition, deposits relating to probable late Roman/early post-Roman activity were also identified within the same trenches at
Hunter Street, overlain by a probable later medieval cultivated soil and post-medieval deposits, capped by modern landscaping material. Within two of the trenches
excavated towards the western limit of Hunter Street, at its junction with St Martin's Way, it was conclusively demonstrated that any archaeological deposits had been
completely removed by modern activity associated with the construction, and subsequent demolition, of modern buildings fronting St Martin's Way. There, modern demolition and levelling deposits extended to a depth of 2m or more below the current ground surface, at which point they directly overlay natural bedrock. Within the area of Trinity Street, while it was established that archaeological deposits
had been extensively removed by modern activity associated with the construction of the Crowne Plaza Hotel and Chester Market Hall complex in many trenches, elements relating to the graveyard were identified. Several intact burials were seen in two trenches, within a layer of organic soil, which in one trench yielded a small assemblage of dissarticulated human bone. The partially disturbed remains of a single,
post-medieval, brick-built structure were also recorded. The overall pattern of preservation therefore suggests that, while modern activity has extensively damaged
archaeological deposits in this area, in many places entirely removing them, particularly towards the south, burials relating to the post-medieval period were not entirely, if at all, cleared prior to construction, and the potential to encounter further burial deposits remains high.
Actions (login required)