Macaulay, Stephen (1994) Post-Medieval Gravel Quarrying at Sweetings Road, Godmanchester. [Client Report] (Unpublished)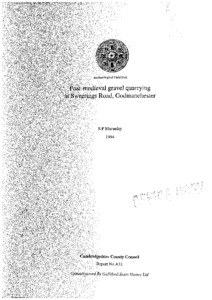 Preview
PDF




CCCAFU_reportA31.pdf


Available under License Creative Commons Attribution Share Alike.
Download (6MB) | Preview
Abstract
In February-March 1994 Cambridgeshire Archaeology carried out an archaeological assessment at Sweetings Road, Godmanchester (TL 246 698) on behalf of Galliford Sears prior to a proposed housing development as part of the planning process.
The area was thought to be likely to hold archaeological deposits dating to the medieval period, cemeteries of the Roman period and possibly, prehistoric features. It transpired that the whole site had undergone extensive gravel pitting in the post-medieval period. This may have caused the destruction of previous archaeological deposits, however the paucity of background artefacts makes this unlikely.
Within the area of the brief there were some surviving deposits of possibly earlier features beneath an earthen bank to the south of the site. Importantly, to the north, in an area not covered within the scope of the present brief designated as 'open-space', modern gravel pitting for road construction, revealed graves and archaeological features of Roman date. These deposits were characteristic of 'Roman Godmanchester' and were unlike any other part of the site. The location of these deposits was recorded and they were reburied to prevent further damage.
Finally, an important stray find of 128,000 year old Bout Coupe' Palaeolithic hand-axe was made within a post medieval quarry pit.
Actions (login required)