Macaulay, Stephen (1994) Archaeological Investigations on a Proposed Synthetic Pitch at Ernulf School, Eynesbury. [Client Report] (Unpublished)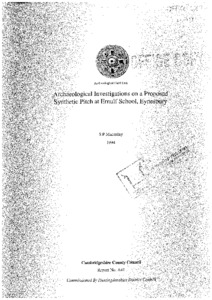 Preview
PDF




CCCAFU_reportA41.pdf


Available under License Creative Commons Attribution Share Alike.
Download (10MB) | Preview
Abstract
In July the Archaeological Field Unit of Cambridgeshire County Council carried out an archaeological evaluation at Ernulf School, Eynesbury (TL 182 588), on the proposed site of a synthetic football pitch. The work was commissioned by Huntingdonshire District Council, to fulfil the archaeological condition for the development. Results of recent archaeological investigations to the north (Alexander 1993) and to the south (Kemp 1993) of the site, also by the Archaeological Field Unit, suggested that archaeological remains would be present, in particular the continuation of a Neolithic cursus and Roman trackway, seen as cropmarks from aerial photographs.
A single trench, 100m in length was opened to test for archaeological features. Within this, five linear features were recorded. A shallow ditch can be identified as the eastern Neolithic cursus ditch, confirming expectations derived from aerial photographs. A ditch producing Roman pottery was excavated and this appears to relate to a north-south trackway ditch identified from cropmarks, to the north (Alexander 1993) and south. Two other north-south ditches were investigated which yielded no artefacts, however one of these may be the eastern ditches of the Roman trackway. Within the trench, it was not possible to locate the western ditch of the cursus. This may be due to its being obscured or removed, during ground levelling to the west, where beyond a gravel bank a lower ground surface may have existed.
An observation was carried out on the stripping of the pitch and laying of drainage/service trenches. The depth at which soil disturbance – that is the topsoil – ceased over the pitch, meant that no archaeology was revealed; however, a raised gravel bank was identified. A service trench which ran along the north side of the pitch, parallel to the evaluation trench, revealed the continuation of four of the five linear features recorded, an importantly, the western cursus ditch. Finally, a Post-medieval ditch, running east-west, was recorded in the north-south drainage trench.
In summary the evaluation confirmed the expectations from cropmarks observed from aerial photographs, relating to a probable Neolithic cursus and Roman trackway. Archaeology has been proved to survive to survive beneath the development area, however no evidence was recovered to indicate a mortuary function for the enclosure otherwise interpreted as a cursus.
Actions (login required)