Welsh, Ken (1994) Eighteenth Century Burials at Old Addenbrooke's Hospital. [Client Report] (Unpublished)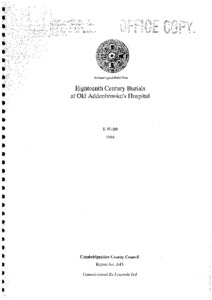 Preview
PDF




CCCAFU_reportA43.pdf


Available under License Creative Commons Attribution Share Alike.
Download (1MB) | Preview
Abstract
In August 1994, the Archaeological Field Unit of Cambridgeshire County Council was called to the Old Addenbrooke's Hospital site (TL 4510 5787), after workmen found human remains whilst digging a sewer trench. The site is being re-developed by Lynxvale Ltd. In co-operation with Fitzroy Robinson, the architects, and Laing, the main contractor, it was decided to widen the sewer trench as far as possible so that the affected burials could be excavated and removed from site.
In all, five skeletons were revealed, all of which had been disturbed to a greater or lesser degree by nineteenth and twentieth century activity, and especially by the digging of the sewer trench.
Fragments of post-medieval pottery were found within the backfill of the graves, indicating that the burials are not associated with the medieval religious foundations which had occupied parts of the site. Documentary evidence strongly suggests that the burials are those of patients of Addenbrooke's Hospital who died during the years 1772-1778. During this period, those who died without a subscriber to pay for burial were interred in the hospital grounds as a cheaper alternative to bury them in nearby St Benet's churchyard.
Human remains unearthed in 1895, during the construction of a nurses' hostel, and at the time interpreted as medieval, probably date from the same period.
Actions (login required)