Street, Rachel (2015) Trinity Islands, Water Street, Manchester. Archaeological Desk-based Assessment. Project Report. Oxford Archaeology North. (Unpublished)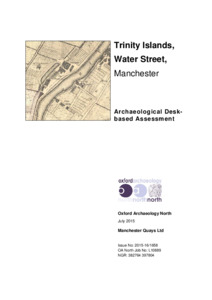 Preview
PDF




Trinity Islands, Manchester_Revised Archaeological Assessment.pdf


Download (9MB) | Preview
Abstract
In order to secure archaeological interests and inform the development process, Manchester Quays Limited commissioned Oxford Archaeology North to undertake an archaeological assessment of the site. This aimed to establish, as far as possible, the nature and significance of the sub-surface archaeological resource within the area, and assess the impact of any future development upon this resource; this report focuses on the below-ground archaeological resource, as a detailed consideration of the aboveground historic environment is presented in a separate heritage appraisal that has been prepared for the wider proposed St Johns development.
The assessment has identified a total of 66 heritage assets within 500m of the Site Area. Of this total number of heritage assets, 18 are listed buildings, all of which lie
beyond the boundary of the Site Area, although the site does lie within the Castlefield Conservation Area. Only eight sites of archaeological interest have been identified
within the Site Area, and none of these are afforded statutory designation, and are thus not considered to be of national importance that would require preservation in-situ. Of these non-designated sites of buried archaeological interest, it is likely that only three
have any potential to survive in-situ. This comprises the site of a late eighteenth century dye works, together with two sites of lower archaeological importance, which comprise some late nineteenth-century buildings along Water Street and a pig market.
Actions (login required)