Cooper, Spencer (2002) Transco Gas Pipeline at Huntingdon, Cambridgeshire: Archaeological monitoring and recording. [Client Report] (Unpublished)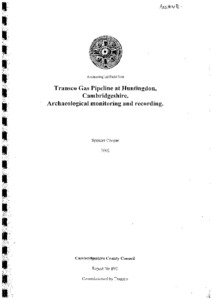 Preview
PDF




CCCAFU_reportB095.pdf


Available under License Creative Commons Attribution Share Alike.
Download (1MB) | Preview
Abstract
Between the 11th of April and 30th of September 2001 an archaeological monitoring brief was undertaken within the centre of Huntingdon. The development consisted of a trench for a gas pipe in various locations within central Huntingdon. The work was undertaken by staff of the Cambridgeshire County Council Archaeological Field Unit and commissioned by Transo.
A number of evaluations and excavations have been undertaken in close proximity to the route of the pipe trench. These evaluations and excavations have enhanced our understanding of the development of medieval Huntingdon. From the outset it was hoped that the observations from this project in combination with results from previous excavation, would provide us with a predictive deposit model for the archaeology of Huntingdon.
Unfortunately few significant archaeological deposits were encountered in over 800m of trenching. This is in the main because the trench appears to have been located in areas of existing services. Artefacts were recovered from trench 19 and trench 20. Victorian remains were encountered in trenches 3 and 4.
Item Type:
Client Report
Uncontrolled Keywords:
cambridgeshire, huntingdon, pipeline, pipe line, transco, gas, medieval, post medieval, post-medieval, victorian, B95, report B95, b95, report b95, Cambridgeshire, Huntingdon, Transco, Medieval, Post-medieval, Victorian, Post Medieval, service trench, St Johns Street, tarmac, gravel, George Street, foundation, wall, Ferrars Road, Ermine Street, High Street, Merrits Street, Nursery Road, Priory Road, bridge, Hartford Road, Stukeley Road, pipe trench, layer, Old Bridge, river ouse, River Ouse, animal bone, faunal remains, St Marys, priory, surface, surfaces, pit, post hole, quarry pit, quarry pit
Subjects:
Geographical Areas > English Counties > Cambridgeshire
Period > UK Periods > Medieval 1066 - 1540 AD
Period > UK Periods > Post Medieval 1540 - 1901 AD
Depositing User:

Hamilton

Date Deposited:
11 Sep 2018 13:07
Last Modified:
11 Sep 2018 13:07
URI:
http://eprints.oxfordarchaeology.com/id/eprint/4344
Actions (login required)