Parker, Aidan (2014) Logistics North Employment Site, Cutacre, Little Hulton, Bolton. Archaeological Evaluation. Project Report. Oxford Archaeology North. (Unpublished)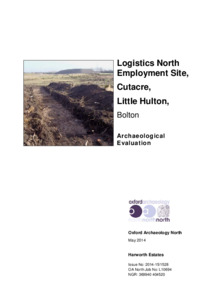 Preview
PDF




Logistics North, Cutacre_Archaeological Report.pdf


Download (1MB) | Preview
Abstract
In February 2014 Oxford Archaeology North was commissioned by Harworth Estates to undertake an archaeological evaluation across both sites in order to determine the
character and significance of any below-ground remains. The scheme of works intended was presented in a Written Scheme of Investigation, which was approved by the Greater Manchester Archaeological Advisory Service in their capacity as archaeological advisor to Bolton Metropolitan Borough Council, and entailed the excavation of two evaluation trenches.
One evaluation trench was positioned across the site of Lea Field. Although this uncovered two possible late eighteenth-/nineteenth-century wall foundations
associated with the post-medieval barn/workers' cottages, these were heavily degraded and truncated. Furthermore, no other contemporary remains were identified, and it is
probable that the majority of below-ground remains associated with this site have been destroyed by later demolition and truncation. As such, this site is considered to hold low archaeological significance.
The other evaluation trench was placed across the site of Old Green House. In this trench, the only below-ground remains present were a metalled surface forming part
of a small trackway/path and it appeared that remains associated with the farmstead had been largely destroyed by later demolition/truncation. Given the absence of any
post-medieval structural or artefactual remains relating to the farmstead, this site is also considered to hold little archaeological significance. It is thus concluded that no
further archaeological investigation of either of these sites is merited in advance of the ground works required by the proposed development.
Actions (login required)