Street, Rachel (2013) NOMA Plot H, Hanover Street, Manchester. Archaeological Desk-based Assessment. Project Report. Oxford Archaeology North. (Unpublished)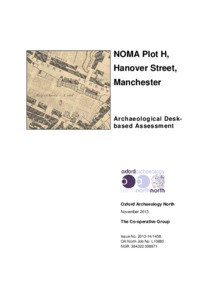 Preview
PDF




NOMA Plot H_Updated Archaeological Assessment.pdf


Download (8MB) | Preview
Abstract
In total, 37 heritage assets have been identified with a 200m radius of the centre of the study area, which include 12 Listed Buildings. The south-eastern corner of study area
also shares a boundary with the Shudehill Conservation Area, although the proposed development is outside the designated area. Of the total heritage assets identified, only
six lie within the boundary of the development area. None of these are afforded statutory designation, and are thus not considered to be of national importance that would require preservation in-situ.
Most of the heritage assets within the Site Area are considered to be of local archaeological importance, which in some cases reflects the probable extent of previous damage or disturbance. A few sites are considered to be of local, or even borough importance, which may merit preservation by record, should they be damaged of destroyed by future development. In particular, any buried remains of a late eighteenth-century warehouse, nineteenth-century dwellings and elements of a later nineteenth-century factory, could potentially be of archaeological interest.
However, the current proposals will have very limited, if any, direct impact on any buried remains of those heritage assets that do survive; the only requirement for ground-breaking works will be associated with the installation of fence posts and floodlighting columns, which will have foundations that are c 700mm deep.
Actions (login required)