Street, Rachel (2013) Etihad Stadium Extension, East Manchester, Manchester. Archaeological Desk-based Assessment. Project Report. Oxford Archaeology North. (Unpublished)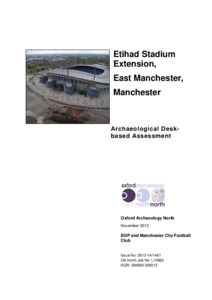 Preview
PDF




Etihad Stadium Extension_Archaeological Assessment.pdf


Download (4MB) | Preview
Abstract
In total, 38 heritage assets have been identified with a 250m radius of the centre of the Site Area, which include four Listed Buildings. In addition, elements of Philips Park, a Registered Park and Garden, lies with the north-eastern part of the wider study area, although the proposed development is outside the designated area. Of the total
heritage assets identified, only 15 lie within the boundary of the Site Area. None of these are afforded statutory designation, and are thus not considered to be of national
importance that would require preservation in-situ.
Most of the heritage assets within the Site Area are considered to be of low local archaeological importance, reflecting the known or probable extent of previous
damage or disturbance. A few sites are considered to be of local, or even borough importance, which may merit preservation by record, should they be damaged or destroyed by future development. In particular, any buried remains of mid-nineteenth century back-to-back dwellings situated adjacent to the North Stand would potentially be of archaeological interest, as they represent late examples of this type of domestic building in the Manchester area. Other sites of archaeological interest that could potentially survive as buried remains include small elements of the mid-nineteenth century Bradford Iron Works, and part of a former reservoir that formed an early component of the infrastructure developed by the Manchester and Salford Water
Works Company, although it is not anticipated that there will be any ground-breaking works in these areas.
Actions (login required)