Bradley, Jeremy (2013) 19, The Promenade, Maryport, Cumbria: Watching Brief Report. Project Report. Oxford Archaeology North. (Unpublished)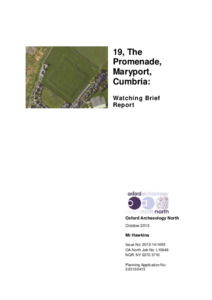 Preview
PDF




L10646_19ThePromMaryport_FullRep.pdf


Download (6MB) | Preview
Abstract
4.1 A small group of finds, 11 artefact fragments in total, was recovered in the course of the project. Finds came from deposits 02/03, 04, and 06. With the exception of clay tobacco pipe, pottery and tile from the site was in poor
condition, being soft and easily abraded, probably as a result of the inimical soil conditions that are prevalent elsewhere in Maryport (pers obs).
Pottery was recovered from deposits 04 and 06. Although there were only six fragments, all were identifiably Roman in date, with part of the base of a samian vessel from 06, and wall sherds from a second samian vessel and an orange oxidised flagon (identified from the prominent handle scar) from deposit 04. Although the pottery was in too poor condition to be dated with any precision, it would seem most likely to date to the second century AD. A small fragment of thin tile from deposit 04 is probably from a typical Roman
imbrex roof tile.
Actions (login required)