Frudd, Andrew (2013) Hallsteads,Dove Holes, Buxton, Derbyshire. Archaeological Test Pit Evaluation Report. Project Report. Oxford Archaeology North. (Unpublished)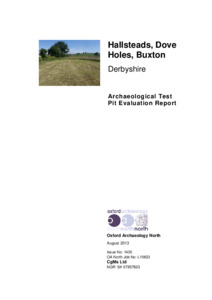 Preview
PDF




Hallstead shovel test pit eval 060813.pdf


Download (3MB) | Preview
Abstract
The principal objective of the test pit survey was to determine the presence or absence of features or lithic artefacts at the site, given the close proximity of the Bull Ring Henge Scheduled Monument (SM 305997), which lies several hundred metres to the south. The fieldwork was completed between the 15th and the 19th of July 2013 and comprised the excavation of 277 hand-excavated shovel test pits, which were sieved on site for the retrieval of lithic artefacts. Naturally-occurring, angular, shattered chert was almost ubiquitous. Struck lithic artefacts (usually made from local chert or an agate-type material) were recovered, in low frequencies, from 118 of the 277 test pits,
distributed widely over the development area. Some of the test pits, predominantly those located in the west and south-west of the area, contained slightly higher-frequencies of worked material than was generally present, which may suggest more intensive activity is focussed in this part of the site.
Three pits, in close proximity to each other in the southern part of the site, each contained a struck piece of, what is possibly, Aran pitchstone. Occasional pieces of worked flint, a material that is not native to the local geology, were also recovered from several of the test pits.
The presence of the lithic artefacts provides evidence for human activity in this area, probably in the Mesolithic or Early Neolithic periods, which could pre-date the Bull Ring Henge, at least in its final form. The precise nature and intensity of the activity cannot be determined from the information presently available, although settlement cannot be ruled out. The presence of exotic lithic material at the site, particularly the possible pitchstone, is of some interest, as, if this is indeed pitchstone, it represents a southerly outlier of the presently-known distribution of this material.
Actions (login required)