Lord, Adele (2018) Land off Greenfield Road, East Dereham, Norfolk. [Client Report] (Unpublished)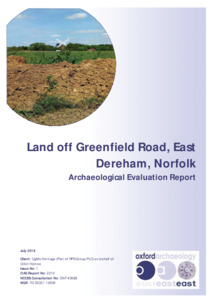 Preview
PDF




Report 2210_LR.pdf


Available under License Creative Commons Attribution Share Alike.
Download (4MB) | Preview
Abstract
Between 30th April 2018 and 11th May 2018 Oxford Archaeology East conducted an archaeological evaluation at land off Greenfield Road, East Dereham, Norfolk (centred on TG 00331 12809).
A total of 24 trenches were opened and several field boundaries identified on the geophysics and historic maps were identified as well as a small number of ditches and gullies that are likely to be a part of a larger field system dating to the Iron Age and Romano-British periods. There is some evidence of prehistoric (Mid-Late Iron Age) activity, although nothing suggesting large-scale activity within the target area.
Middle to Late Iron Age and Roman pottery was found along with a small largely unstratified collection of flintwork.
Item Type:
Client Report
Uncontrolled Keywords:
archaeological evaluation, norfolk, Norfolk, Dereham, dereham, east dereham, East Dereham, flint, lithic, worked flint, lithic implement, pottery, sherd, vessel, roman pottery, Roman pottery, iron age, Iron Age, field system, romano-british, Romano-British, iron object, 2210, report 2210, Report 2210, OAE report 2210, Brampton-type sandy grey ware, Nar Valley reduced ware, post-medieval, Post-medieval, post medieval, Post Medieval, post-medieval pottery, brick, tile, medieval roof tile, bottle glass, glass, ditch, gully, gullies, ditches
Subjects:
Geographical Areas > English Counties > Norfolk
Period > UK Periods > Iron Age 800 BC - 43 AD
Period > UK Periods > Post Medieval 1540 - 1901 AD
Period > UK Periods > Roman 43 - 410 AD
Divisions:
Oxford Archaeology North
Depositing User:

Hamilton

Date Deposited:
24 Sep 2018 07:44
Last Modified:
18 Dec 2018 11:48
URI:
http://eprints.oxfordarchaeology.com/id/eprint/4391
Actions (login required)