Quartermaine, Helen (2013) The Woodlands, Rossmill Lane, Hale Barns, Greater Manchester. Desk-Based Report. Project Report. Oxford Archaeology North. (Unpublished)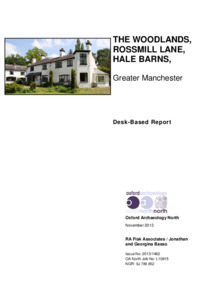 Preview
PDF




L10615_TheWoodlands_FullRep.pdf


Download (2MB) | Preview
Abstract
A charter of 1281 cites lands in Hale granted by Hamon Massey to Jurdan de Davenport, which also refers to Ross Mill which is near to Buttsclough. Buttsclough has been bound with the Leather family for several hundred years. The earliest reference to the family and the property is a marriage indenture, dated 1663, in the possession of the present occupier of Woodlands which cites Richard Leather and William his son as being yeomen of Hale. The document further states that William had just married Mary, with the indenture setting out the terms of the marriage portion. Significantly, a wooden plaque marked 'ML 1663' has been found in the farmhouse of Buttsclough which may relate to Mary's marriage to William.
The first direct documentary evidence of a house at Buttsclough comes from Richard Leather's will of 1724 which detailed the contents of the house and the farm stock.
The earliest cartographic representation of the farm is on Peter Burdett's map of 1777.
Christopher Greenwood's map of 1819 shows a farm in this location with three buildings, which were also noted on the Tithe Apportionment map of 1842. By the time of the 1898 Ordnance Survey map two of the previous L-shaped buildings were joined and developed to form a larger T-shaped building. The third L-shaped building to the south, which comprised the farmhouse, had three small additions or possibly bay windows added to the south and west wall and could be described as a rectangular building.
Actions (login required)