Mottershead, Graham (2013) Former Magistrates' Court, Brockhurst Street, Northwich, Cheshire West. Archaeological Evaluation Interim report. Project Report. Oxford Archaeology North. (Unpublished)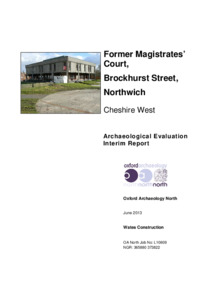 Preview
PDF




Northwich Magistrates' Court_Interim Archaeological Report.pdf


Download (5MB) | Preview
Abstract
An archaeological desk-based assessment of the site, carried out in 2005, concluded that the site has considerable potential for the survival of deposits relating to the industrial archaeology of Northwich. In particular, a salt works is shown within the boundary of the development area on eighteenth-century maps, together with a 'cistern' and a short arm off the River Weaver. In order to secure archaeological interests, the Development Control Archaeologist with the Cheshire Archaeology Planning Advisory Service recommended that the site should be subject to a programme of pre-determination field evaluation in order to establish the need, if any, for further archaeological mitigation.
The scheme of works recommended required the excavation of a series of trenches with a combined total length of 80m, which were targeted on features shown on historical mapping.
The evaluation was carried out by Oxford Archaeology North (OA North) in May 2013, and comprised the excavation of five targeted trenches and a small test pit. The results obtained from the evaluation indicate that any archaeological remains in the central part of the site are most likely to have been destroyed entirely during the development of the site in the twentieth century, and that further archaeological investigation in this area is not merited. Conversely, buried remains of the former Croft Salt Works were found to survive in-situ across the western part of the site, and merit further investigation to mitigate their ultimate damage or loss during the course of the proposed development. As these remains are likely to be fragmentary, it is recommended that an archaeological watching brief maintained during any ground reduction works required in these areas would be an appropriate course of action.
Similarly, structural features were identified across the eastern part of the site, and ground-reduction in this area should be monitored archaeologically.
Actions (login required)