Wild, Chris (2013) Queen's Mill, New Hall Street, Burnley, Lancashire. Archaeological Building Investigation. Project Report. Oxford Archaeology North. (Unpublished)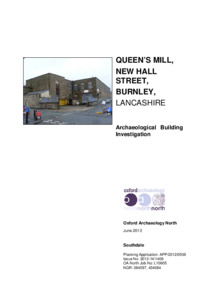 Preview
PDF




Queens Mill, Burnley_Archaeological Survey Report.pdf


Download (5MB) | Preview
Abstract
Queen's Mill was erected as a steam-powered weaving mill in 1887-88 on New Hall Street in Burnley. The area immediately surrounding the mill is one of considerable industrial archaeological and historic interest, as it represents a moderately intact remnant of a textile-manufacturing nucleus that developed at Daneshouse in the late nineteenth and early twentieth centuries. No fewer than 12 mills operated in the area, with surrounding streets of terraced housing built in a tight grid-iron pattern. Daneshouse is considered in a recent heritage appraisal compiled by Burnley Council
to have '…a wealth of historic buildings and features which have played and important part in its development and the lives of the people who have lived and worked in the area.'
The Queen's Mill complex comprises a single-storey weaving shed constructed of local sandstone to the north of a two-storey preparation block and warehouse, with an
attached engine house, boiler house and chimney, all of similar fabric. The layout of the mill exemplifies the refinement of the construction of cotton weaving mills
through the second half of the nineteenth century, culminating in mills such as Queen's Mill, where the layout of the structures, was calculated precisely to maximise
efficiency, primarily by the placement of the primary motion shaft from the steam engine so that it transferred power directly into the weaving shed to power the individual line shafts. An economiser was almost certainly placed between the boiler house and chimney, within a compact power plant that occupied the south-west corner
of the site.
Actions (login required)