Clarke, Graeme (2018) Land off Cockering Road, New Thanington, Canterbury, Kent. [Client Report] (Unpublished)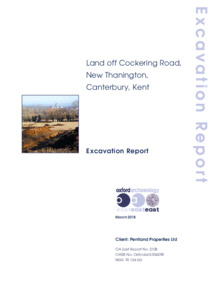 Preview
PDF




Report 2108_LR.pdf


Available under License Creative Commons Attribution Share Alike.
Download (3MB) | Preview
Abstract
Between the 12th June and 27th July 2017 Oxford Archaeology East (OA East) carried out excavations at Land off Cockering Road, New Thanington, Canterbury, Kent. In total, 1.27ha was investigated by two areas of excavation (Areas 1 and 2) within the 73 hectare development area of nine arable fields, extending to the south of Thanington. Area 1 comprised 0.92ha within a large field to the south of Cockering Road and Area 2 comprised 0.35ha of land on the northern edge of the development, adjacent to the A2 carriageway.
The locations of the excavation areas were based on the results of previous stages of evaluation work. A desk-based assessment was carried out by Wardell Armstrong in 2013 with a geophysical survey undertaken in 2015. An archaeological trench evaluation was conducted across the full extent of the development area by OA East in January 2017. The evaluation identified two areas of significant prehistoric remains within the development. These remains included Bronze Age enclosure ditches with Bronze Age and Iron Age pitting activity in their vicinity. Furthermore, medieval and post-medieval boundary ditches and evidence for modern hop-gardens were also revealed across the wider extent of the development.
Small scale pit deposits of Early-Middle Neolithic date were encountered in both excavation areas. The range of flintwork recovered along with hazelnut and dried crab apple demonstrate at least transient occupation of the site at this early period associated with the foraging of food in the local environment. Enclosures of Middle Bronze Age date were also revealed in both areas which probably relate to the wider intensification of farming associated with animal husbandry observed across Kent in this period. A radiocarbon date on material associated with a large cache of pottery recovered from one of the ditches returned a date of 1440-1300 cal BC.
In Area 2, these remains were succeeded by Late Bronze Age settlement represented by two loose groups of pits. The large assemblage of pottery recovered from these groups was radiocarbon dated to the 9-10th centuries BC. A scatter of Early Iron Age pits was also found to extend across part of Area 1, with a single pit producing the majority of the pottery assemblage; this was radiocarbon dated to 540-390 cal BC.
The remains encountered in this excavation are of local and regional significance, providing secure radiocarbon dates for later prehistoric settlement and pottery traditions upon the northern edge of the rarely excavated North Downs. The importance of these remains is enhanced further by their discovery out-with the known concentrations of later prehistoric sites (as a result of greater development pressure) upon the lower lying areas of Ashford and the north Kent coastal plain.
Item Type:
Client Report
Uncontrolled Keywords:
archaeological excavation, kent, Kent, Canterbury, canterbury, New Thanington, new thanington, Neolithic, neolithic, Early Neolithic, early neolithic, middle neolithic, Middle Neolithic, flintwork, flint, worked flint, lithic, lithics, lithic implement, hazelnut, hazelnuts, crab apple, Middle Bronze Age, middle bronze age, MBA, mba, agriculture, farming, animal husbandry, field system, field systems, pottery, bronze age pottery, Bronze Age pottery, pot, Pottery, ceramic, C14 dating, c14 dating, c14, C14, radiocarbon dating, radiocarbon date, settlement, Late Bronze Age, late bronze age, Late Bronze Age settlement, late bronze age settlement, pit, pits, Early Iron Age, early iron age, eia, EIA, LBA, lba, iron age pottery, Iron Age pottery, early iron age pottery, Early Iron Age pottery, post hole, hop garden, ditch, boundary ditch, sink hole, enclosure ditch, tree throw, button, buckle, bell, cbm, CBM, ceramic building material, Ceramic Building Material, vessel, animal bone, animal remains, groat, burnt flint, blade, flake, blade-like flake, scraper, lava quern, Early Neolithic ware, Peterborough Ware, Beaker, Deverel-Rimbury, jars, jar, bowls, bowl, cup, cups, fired clay, spindle whorl, post-roman ceramic, oyster shell, 2108, report 2108, Report 2108, OAE report 2108
Subjects:
Geographical Areas > English Counties > Kent
Period > UK Periods > Bronze Age 2500 - 700 BC
Period > UK Periods > Bronze Age 2500 - 700 BC > Early Bronze Age 2500 - 1500 BC
Period > UK Periods > Iron Age 800 BC - 43 AD > Early Iron Age 800 - 400 BC
Period > UK Periods > Neolithic 4000 - 2200 BC > Early Neolithic 4000 - 3000 BC
Period > UK Periods > Iron Age 800 BC - 43 AD
Period > UK Periods > Bronze Age 2500 - 700 BC > Late Bronze Age 1000 - 700 BC
Period > UK Periods > Neolithic 4000 - 2200 BC > Late Neolithic 2700 - 2200 BC
Period > UK Periods > Bronze Age 2500 - 700 BC > Middle Bronze Age 1600 - 1,000 BC
Period > UK Periods > Neolithic 4000 - 2200 BC
Divisions:
Oxford Archaeology East
Depositing User:

Hamilton

Date Deposited:
03 Oct 2018 15:28
Last Modified:
29 Oct 2019 07:50
URI:
http://eprints.oxfordarchaeology.com/id/eprint/4407
Actions (login required)