Schofield, Peter (2013) Windermere Reflections, Mines and Quarries, Bank's Quarry, Greenhead Gill Mine, Fairfield Mine and Providence Mine in Grasmere and Elterwater. Community Archaeology Survey Report. Project Report. Oxford Archaeology North. (Unpublished)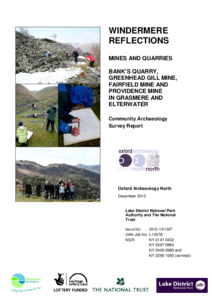 Preview
PDF




L10578_WindermereReflect_FullRep.pdf


Download (88MB) | Preview
Abstract
Topographic survey was undertaken to identify, record, and describe any extant structures and features associated with four mines and quarries within the Windermere lake catchment: Banks Quarry, near Elterwater (NY 3147 0432); Greenhead Gill Mine, Grasmere, (NY 3497 0864); Fairfield Mine, Grasmere (NY 3400 0980); and Providence Mine, Grasmere (NY 3390 1050). The surveys were undertaken between the 8th April and 3rd May 2013. Desk-top survey of historical information pertinent to each site, including historical maps, and records held in the Armitt Library and Kendal Record Office took place on the 8th and 10th May 2013.
Banks Quarry is a representative example of the type of slate quarry that were prevalent across the Coniston and Langdale valleys, characterised by the outcropping of the
Borrowdale Volcanic Series (BVS) rocks that provided the characteristic green slates. The rock was won from open quarries or adits following a narrow seam of good quality rock, and there were many separate quarry and processing areas concentrated in a localised area, each working a different part of the same seam. At the entrance to the adits or quarries were a series of riving sheds, where the coarse rock was cleaved into thin roof slates. Much
of the rock that was quarried, however, was discarded, producing considerable spoil which extended over earlier workings.
Actions (login required)