Mumford, James and Dodd, Mark (2018) Kingsbrook, Aylesbury, Buckinghamshire. [Client Report] (Unpublished)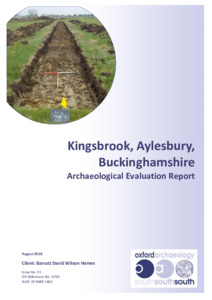 Preview
PDF




BIKI18.pdf


Download (2MB) | Preview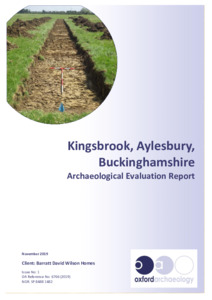 Preview
PDF




BIKI19.pdf


Download (7MB) | Preview
Abstract
In April 2018 Oxford Archaeology carried out a 30 trench evaluation on land
at Kingsbrook on the eastern edge of Aylesbury. The work was commissioned
by Barratt David Wilson Homes and was part of the new urban expansion
development to the east of Aylesbury. The evaluation followed previous
geophysical survey that had identified ridge and furrow cultivation features.
The evaluation confirmed the presence of shallow furrows across much of the
area and identified probable former field boundaries at two locations. No other archaeological features were encountered.
In July 2019, Oxford Archaeology carried out an archaeological evaluation at
Kingsbrook, Aylesbury, Buckinghamshire. The work comprised the excavation
of 69 trenches, each measuring 50 x 1.8m, representing an approximate 2%
sample of the development area.
Archaeological features were identified in Trenches 112, 126, 163 and 175. A
Roman boundary ditch was revealed at the western end of Trench 112. This
may form a peripheral part of a series of rectilinear enclosures previously
identified in Area B to the west of the current evaluation area.
A concentration of shallow pits or naturally silted hollows were recorded in
Trench 163 to the north of the site that were dated to the post-medieval
period or later. These also contained several sherds of residual mid to late Iron
Age pottery and provide evidence that activity of this date took place within
the area, although no features or deposits of this period were identified during
this investigation.
Trench 126 revealed a single small pit containing a flint flake, while Trench 175
identified a shallow post-medieval ditch or possible plough furrow.
The observations made during this evaluation are consistent with those of the
previous phases of investigation, indicating a paucity of archaeological
features, deposits or artefacts. Although there are several areas of Iron Age
and Roman activity near to the site, they appear to be restricted to well defined
discrete areas and do not appear to continue to any great extent into
the wider landscape.
Actions (login required)