Forde, Deirdre Dairy Farm, Shepperdine South Gloucestershire. [Client Report] (Unpublished)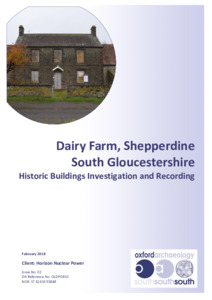 Preview
PDF




BRSMG_2017_129_Dairy_Farm.pdf


Download (15MB) | Preview
Abstract
Oxford Archaeology (OA) was commissioned by Horizon Nuclear Power to
undertake recording and historical architectural investigation of the standing
buildings at the site of Dairy Farm in Shepperdine, South Gloucestershire, prior
to renovation of the property. The recording encompassed all of the structures
associated with the farm complex comprising: the large two-storey farmhouse,
two adjoining barns, an outhouse and shed arranged around the farmhouse,
an enclosed walled farmyard with a dovecote and a cowshed, and additional
animal shelters built onto the eastern side of the farmyard wall.
Dairy Farmhouse is a large stone-built farmhouse with four principal rooms on
its ground floor, comprising reception rooms to the front and service rooms to
the rear, and six rooms on the first floor, some of which may be subdivided.
The two large rooms on the ground and first floor of the north-east corner
(rear) of the house show evidence that these areas were used for industrial
purposes, likely a processing area for goods produced on the farm. The name
suggests that dairy products were produced at the farm, so perhaps it was an
area for cheese processing and storage. The annexe on the west side of the
building appears to have been used for storage purposes also. The buildings
adjacent to the farmhouse and around the farmyard, for the most part, appear
to have been used for the purposes of rearing livestock.
Dairy farm first appears on the 1840 Tithe map and the subsequent OS maps
show that the farm developed over the following decades, with the enlarging
of the farmhouse in 1870 and the addition of various buildings around the
farmyard. The historic arrangement of the 1870 farmhouse is remarkably well
preserved with the survival of many architectural detailing and fixtures of
significance such as the dresser in the pantry on the ground floor. The
outbuildings also retain a high level of historic fabric, most notably, their
masonry and roof structures, but the pantile roof coverings of both the
farmhouse and farm buildings are modern replacements, in the regional style.
Actions (login required)