Forde, Deirdre Shepperdine Farm, Shepperdine South Gloucestershire. [Client Report] (Unpublished)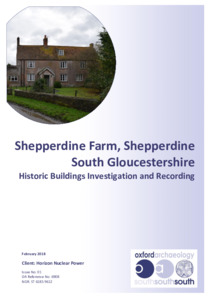 Preview
PDF




BRSMG_2017_129_Shepperdine_Farm.pdf


Download (17MB) | Preview
Abstract
Oxford Archaeology was commissioned by Horizon Nuclear Power to
undertake an archaeological investigation and recording of the standing
buildings at Shepperdine Farm in Shepperdine, South Gloucestershire, prior to
renovation of the property. These include a large two-storey farmhouse with
an attic level, barns, and several outbuildings arranged around the adjacent
farmyard.
The farmhouse has at least two phases of development and it is believed that
the southern bay is a secondary addition to an 18th-century, two bay house. It
appears to have been added in the 19th century with the interior arrangement
of the house also being remodelled at this time creating the rear corridor on
the ground floor and the hallway on the first floor. The staircase was almost
certainly moved to its current position against the north gable of the house
and its original position was probably around the large chimney stack situated
between the original north and central bays.
It is likely that much of the surviving architectural detailing throughout the
house was added at this time. This includes the windows, architraves, skirting
boards and some of the doors, although the simple plank and batten doors
may have survived from the original arrangement. A notable feature of the
house is the pantry on the ground floor, with its surviving fitted furniture. This
also is likely to date to the 19th-century changes.
The north extension is also likely to be a 19th-century addition but it is
unknown if it was built before or after the alterations to the main farmhouse.
The situation of the doorway into it from the rear corridor would suggest that
it was built at the same time or at a later date. The kitchen is entirely modern
but the scullery at the north end has surviving historic features.
The shed is the earliest of the row of outbuildings to the north of the
farmhouse, with the barn and stable built onto its eastern end at the later date.
The equipment shed and animal shelters, the hay sheds, and the garage are
built around earlier structures and, although they are not listed, they are
moderately significant as part of the wider context of the farm.
Actions (login required)