Haskins, Anthony and Morgan, Stephen and Billington, Lawrence (2018) Little Melton to Hethersett pipeline Strip, Map and Sample excavation and watching brief across Prehistoric, Roman and Medieval Norfolk: full report. [Client Report] (Unpublished)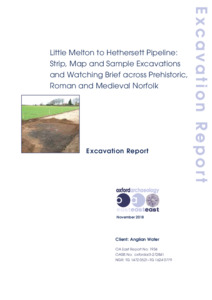 Preview
PDF




OAE_Report1934_LR.pdf


Available under License Creative Commons Attribution Share Alike.
Download (7MB) | Preview
Abstract
During October 2014 to January 2015; Oxford Archaeology East undertook two Strip, Map and Sample (SMS) excavations and a watching brief on the Little Melton to Hethersett Pipeline (TG1472 0521 – TG 1624 0779). The southernmost SMS area, at Hethersett, was located close to the site of a probable Roman villa. Pits and ditches associated with Romano-British occupation (broadly dating to the 2nd and 3rd centuries and forming part of a previously known villa complex) were identified within the area. A small Bronze Age pit was also identified, hinting at prehistoric occupation in the vicinity.
The northernmost SMS area was located to the south of All Saints Church, Little Melton. A mixed assemblage of struck flints dated from the Late Palaeolithic/Early Mesolithic onwards and a line of post holes of Romano-British date were excavated. However, the main focus of the site was an area of Late Saxon and early medieval occupation in close proximity to the church. This included a multi-phase building, pits, ditches and a possible trackway. A series of agricultural features including remains of ridge and furrow were also identified. At the southern end of the site a
large ditch was possibly associated with a moated site to the west of the investigation area.
The watching brief area was largely devoid of archaeological features. The only area of note was at the northern end of the pipeline, near Watton Road, where a substantial lithic assemblage was recovered from sampling of probable colluvial deposits, which also produced an assemblage of Iron Age pottery. Although chronologically mixed, the lithic assemblage provides evidence for Neolithic axe manufacture
which can be paralleled at other sites in the local area. In one area this colluvium was found to seal a burnt mound, formed of a dense spread of fire cracked flint and
stone, which sealed, and was associated with, several pit features. No other finds were found in close association with the burnt flint and stone but two radiocarbon dates place this activity in the late third millennium cal BC.
Item Type:
Client Report
Uncontrolled Keywords:
Norfolk, norfolk, Hethersett, hethersett, Little Melton, little melton, pipeline, Pipeline, Pipe Line, pipe line, Roman, roman, pit, pits, ditch, ditches, Romano-British, romano-british, bronze age, Bronze Age, bronze age pit, Bronze Age pit, flint, worked flint, lithic, lithics, lithic implement, Late Palaeolithic, late palaeolithic, Early Mesolithic, early mesolithic, post hole, post holes, posthole, postholes, post hole, post holes, trackway, track way, building, structure, multi-phase, early medieval, Early Medieval, saxon, Saxon, Roman pottery, roman pottery, Saxon pottery, saxon pottery, early medieval pottery, Early Medieval pottery, agriculture, cultivation, farming, ridge and furrow, furrow, Iron Age, iron age, Iron Age pottery, iron age pottery, colluvium, colluvial deposit, Neolithic axe manufacture, neolithic axe manufacture, Neolithic axe, neolithic axe, neolithic, Neolithic, burnt mound, fire cracked flint, burnt flint, C14, C14 dating, radiocarbon dating, radiocarbon date, 1936, report 1936, Report 1936, CCCAFU report 1936
Subjects:
Geographical Areas > English Counties > Norfolk
Period > UK Periods > Bronze Age 2500 - 700 BC
Period > UK Periods > Early Medieval 410 - 1066 AD
Period > UK Periods > Mesolithic 10,000 - 4,000 BC > Early Mesolithic 10 000 - 7000 BC
Period > UK Periods > Iron Age 800 BC - 43 AD
Period > UK Periods > Medieval 1066 - 1540 AD
Period > UK Periods > Mesolithic 10,000 - 4,000 BC
Period > UK Periods > Neolithic 4000 - 2200 BC
Period > UK Periods > Palaeolithic 500 000 - 10 000 BC
Period > UK Periods > Roman 43 - 410 AD
Divisions:
Oxford Archaeology East
Depositing User:

Hamilton

Date Deposited:
17 Oct 2018 10:53
Last Modified:
21 Nov 2018 11:02
URI:
http://eprints.oxfordarchaeology.com/id/eprint/4428
Actions (login required)