Gilmour, Nick (2014) Land at Bartlow Road, Linton: DBA. [Client Report] (Unpublished)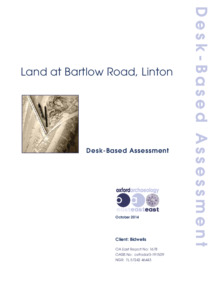 Preview
PDF




Report_1678_LR.pdf


Available under License Creative Commons Attribution Share Alike.
Download (1MB) | Preview
Abstract
This study was commissioned by Bidwells, in advance of a potential planning application to build housing within a c.4.5ha area on the edge of Linton, Cambridgeshire.
The proposed development area is considered to have a high potential for archaeological remains of prehistoric, Roman and Saxon date, while medieval remains may also be encountered. The site is located adjacent to the River Granta, in an area favoured for prehistoric occupation. Part of a walled Roman cemetery has been excavated within the study area, which was associated with Linton Roman Villa, located to the south of the site. A possible Anglo-Saxon cemetery was also recorded immediately adjacent to the proposed development area during construction of housing. In addition, the deserted medieval village and priory of Barham is located c.300m to the south of the site.
The degree of survival of archaeological remains is hard to gauge with certainty. However, it is known that excavations in the 19th and early 20th century have removed some of the archaeology. In addition, much of the site is ploughed and this will have further truncated any buried features.
A reinterpretation of aerial photographs of the site has shown a probable trackway crossing it. This trackway may be of medieval date and have linked the villages of Great Linton and Barham. However, it is also possible that this trackway is of post-medieval date. Field divisions were also noted during the aerial photographic survey, which are believed to be of post-medieval date.
Item Type:
Client Report
Uncontrolled Keywords:
DBA, dba, Desk-based Assessment, desk-based assessment, Linton, linton, Cambridgeshire, cambridgeshire, prehistoric, Prehistoric, Roman, roman, anglo-saxon, Anglo-Saxon, early medieval, Early Medieval, aerial photography, plough damage, post medieval, post-medieval, Post Medieval, Post-medieval, field system, 1678, report 1678, Report 1678, OAE report 1678
Subjects:
Geographical Areas > English Counties > Cambridgeshire
Period > UK Periods > Early Medieval 410 - 1066 AD
Period > UK Periods > Neolithic 4000 - 2200 BC
Period > UK Periods > Post Medieval 1540 - 1901 AD
Period > UK Periods > Roman 43 - 410 AD
Divisions:
Oxford Archaeology East
Depositing User:

Hamilton

Date Deposited:
22 Oct 2018 10:09
Last Modified:
22 Oct 2018 10:09
URI:
http://eprints.oxfordarchaeology.com/id/eprint/4431
Actions (login required)