Bailey, Glenn (2003) Medieval Agricultural Features at Ely Community College: An Archaeological Evaluation. [Client Report] (Unpublished)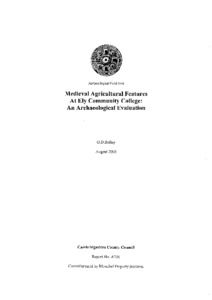 Preview
PDF




CCCAFU_reportA236.pdf


Available under License Creative Commons Attribution Share Alike.
Download (1MB) | Preview
Abstract
The Archaeological Field Unit of Cambridgeshire County Council undertook an archaeological evaluation in advance of a school building development and the construction of tennis courts, and an all weather pitch, on playing fields to the rear of Ely Community College between 24th July and 5th August 2003. The work was commissioned by Mouchel Property Services of behalf of Cambridgeshire County Council.
The evaluation revealed that the area of proposed development has been subject to two phases of medieval/post-medieval agricultural activity. The earlier phase comprised a series of relatively small ditches, seemingly part of a small enclosure. They were masked by a later phase of post-medieval ridge and furrow field system. The archaeological features of the earlier phase survived at a depth of 0.6m to 1.06m below the modern ground surface. The ridge and furrow was evident on the surface as subtle, fairly regular undulations running WNW-ESE.
Pottery recovered from the features in trench 8 indicates a date range of mid 11th to early 15th century for the agricultural enclosure. Other finds retrieved from the topsoil date from the 25th to 18th centuries. It is clear that the site has been used primarily for agriculture from the medieval period until the construction of the Community College in the 20th century.
Item Type:
Client Report
Uncontrolled Keywords:
Ely, ely, Cambridgeshire, cambridgeshire, archaeological evaluation, evaluation, medieval, Medieval, post-medieval, Post-Medieval, post medieval, Post Medieval, agriculture, cultivation, ditch, ditches, enclosure, ridge and furrow, field system, pottery, Pottery, residual, residual pottery, buried soil, pottery, Pottery, medieval pottery, Medieval Ely Ware, medieval Ely ware, medieval ely ware, jug rim, medieval Ely jug rim, tile, CBM, cbm, ceramic building material, Ceramic Building Material, Glazed Red Ware, glazed red ware, English stoneware, Essex Trail slipware, Black basalt ware, Staffordshire white salt-glazed stoneware, A236, a236, report a236, report A236, Report a236, Report A236, CCCAFU report A236
Subjects:
Geographical Areas > English Counties > Cambridgeshire
Period > UK Periods > Medieval 1066 - 1540 AD
Period > UK Periods > Post Medieval 1540 - 1901 AD
Depositing User:

Hamilton

Date Deposited:
24 Oct 2018 19:50
Last Modified:
24 Oct 2018 19:50
URI:
http://eprints.oxfordarchaeology.com/id/eprint/4435
Actions (login required)