Bullock, Vicki (2009) Halton East, Halton, Cheshire. Archaeological Watching Brief. Project Report. Oxford Archaeology North. (Unpublished)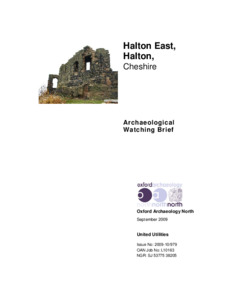 Preview
PDF




FullReport280909.pdf


Download (6MB) | Preview
Abstract
In June 2009 Oxford Archaeology North (OA North) was commissioned by United Utilities to undertake an archaeological watching brief at Halton Castle, Halton,
Cheshire (NGR 53775 38205). The castle is a designated Scheduled Monument (SM 27611). The watching brief was required to monitor all earth-moving works associated
with the slip-lining of an existing water main.
The work comprised the excavation of four pits within the castle grounds. Earthmoving works were restricted largely to a car parking area and a short section of footpath immediately in front of the Castle Hotel. This is within the castle grounds but not within the shell keep itself or the area of the Scheduled Monument. The excavated deposits largely comprised backfill of existing service trenches. No archaeological features were encountered during the course of the watching brief and no finds were recovered. The works did not have a negative impact on the archaeological resource within the site. No recommendations are made for further work.
Actions (login required)