Zant, John (2013) A66 (Package A) Road Improvement Scheme, Greta Bridge to Scotch Corner. Archaeological Archive Report. Project Report. Oxford Archaeology North. (Unpublished)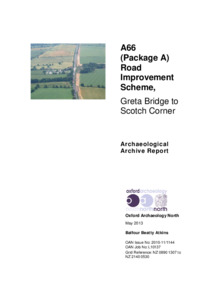 Preview
PDF




L10137_A66PackageA_FullRep.pdf


Download (71MB) | Preview
Abstract
The Highways Agency has improved the A66 in two sections between Greta Bridge, Co Durham, in the west, and Scotch Corner, North Yorkshire, in the east, producing an all-purpose dual carriageway. This included the construction of a new 7.3m wide carriageway, with 1m wide marginal strips, adjacent to the existing A66 single carriageway, over a distance of approximately 5km, between the Greta Bridge bypass (NZ 0890 1307 (408900 513070)) and the top of Stephen Bank (NZ 1280 1034 (412800 510340)), and for a distance of approximately 6km between Carkin Moor (NZ 1622 0827 (416220 508270)) and the Scotch Corner A1 Interchange (NZ 2140
0530 (421400 505300)). The 4km of road between these two sections remains as single carriageway and was not subject to the present scheme.
In July 1998, BHWB Environmental Design and Planning was commissioned to review and update the archaeological information gathered for this road improvement scheme, and to carry out a condition survey of the various route options. A programme of Stage 3 detailed evaluation works, comprising geophysical survey by GeoQuest Associates and trial trenching by Northern Archaeological Associates
(NAA), was then initiated to assess the archaeological potential and the impact of the scheme, in accordance with the requirements of the Department of Transport's (DOT's) Design Manual for Roads and Bridges, Volume 11 Environment Assessment(DOT 1994).
Actions (login required)