Blythe, Kathryn (2009) Skipwith Common-North, North Yorkshire. Archaeological Landscape Survey. Project Report. Oxford Archaeology North. (Unpublished)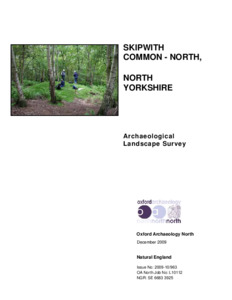 Preview
PDF




L10112SkipwithCommonFullReport.pdf


Download (76MB) | Preview
Abstract
Oxford Archaeology North (OA North) was invited by Natural England to undertake a programme of archaeological survey of part of Skipwith Common and Back Common on behalf of Escrick Park Estate in order to inform the appropriate conservation management of the common (NGR SE 6683 3925, approximate centre). In 2008 a survey was undertaken by OA North of an area of Skipwith Common to the south-west of the village,
including the eastern part of the former Riccall Airfield. The current survey therefore follows on from this work, and covered an area extending northwards from the north-east
extent of the 2008 survey area. The survey was undertaken in March and April 2009.
The project comprised a documentary study and a landscape survey. The documentary study entailed an investigation of the following sources: the North Yorkshire Historic
Environment Record (HER); the National Monuments Record (NMR); the East Riding Record Office in Beverley; the University of Hull Archives; and the OA North Library.
There were two elements to the landscape survey; the first was a rapid surface investigation to identify the existence of, but not record in detail, the surface archaeological monuments within the study area, which were then located using a differential GPS system. The second was a detailed survey of the multiple bank boundary system that was part recorded during the 2008 season. The field survey was undertaken partly by OA North staff, but much of it was carried out by members of the Friends of Skipwith Common, with the assistance of members of OA North. As a result of the landscape survey, 103 new sites have been added to the gazetteer, and 16 sites previously identified by the HER and NMR were also visited.
Actions (login required)