Cooper, Spencer (2005) 41 Madingley Road, Cambridge: an Archaeological Evaluation. [Client Report] (Unpublished)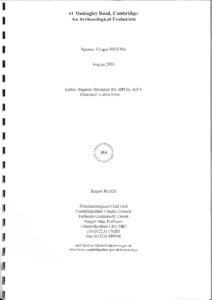 Preview
PDF




CCCAFU_report820.pdf


Available under License Creative Commons Attribution Share Alike.
Download (553kB) | Preview
Abstract
Between 11th and 12th July 2005, the Cambridgeshire County Council Archaeological Field Unit carried out an archaeological evaluation by trial trenching at 41 Madingley Road in advance of a residential development.
This evaluation revealed a single undated feature in Trench 4 which may be part of an Iron Age or Roman field system. The rest of the site has been truncated by later activity.
The evaluation has made a limited contribution to the understanding of the archaeology of the area and has demonstrated the presence of post-medieval and modern remains across the subject site and the relative absence of Iron Age or Roman material.
Item Type:
Client Report
Uncontrolled Keywords:
evaluation, archaeological evaluation, Cambridgeshire, cambridgeshire, Cambridge, cambridge, Madingley Road, madingley road, ditch, field system, Roman, roman, Iron Age, iron age, overburden, field boundary, victorian, Victorian, pit, rubbish pit, refuse pit, truncation, 820, report 820, Report 820, CCCAFU report 820
Subjects:
Geographical Areas > English Counties > Cambridgeshire
Period > UK Periods > Iron Age 800 BC - 43 AD
Period > UK Periods > Post Medieval 1540 - 1901 AD
Period > UK Periods > Roman 43 - 410 AD
Depositing User:

Hamilton

Date Deposited:
09 Nov 2018 08:45
Last Modified:
09 Nov 2018 08:45
URI:
http://eprints.oxfordarchaeology.com/id/eprint/4472
Actions (login required)