Mason, Neal (2018) Perkins Sports Association Club, Oxney Road, Peterborough. [Client Report] (Unpublished)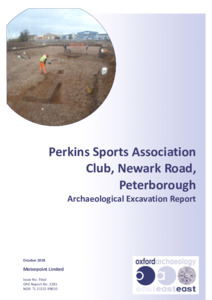 Preview
PDF




OAE_Report_2245_Final_LR.pdf


Available under License Creative Commons Attribution Share Alike.
Download (6MB) | Preview
Abstract
Between the 7th and the 23rd of November 2016, Oxford Archaeology East (OAE) carried out an archaeological excavation at the former site of the Perkins Sports Association Club, Oxney Road, Peterborough (TL 21404 00330), followed by monitoring and recording during ground works in May 2018. The archaeological works were carried out prior to the proposed construction of a car preparation, storage and valeting centre.
The 'L'-shaped development area was 3.38ha in extent, divided into northern and southern plots separated by a drainage ditch lined by a row of trees. Following the evaluation carried out by OAE (Rees, 2014), an area of approximately 0.15ha within the development area was selected for excavation, with a surrounding 0.5ha being subject to monitoring and recording. This was located in the south-east corner of the northern plot, immediately adjacent to Newark Road and commercial premises to the south (Fig. 1).
The excavation revealed archaeological features dating from the Late Neolithic to the Early Iron Age. The earliest features were a series of Late Neolithic and Early Bronze Age pits which produced pottery and flint typical of domestic/settlement type assemblages. These were overlain by a network of field boundary ditches, which clearly relate to the well-known extensive Middle Bronze Age field systems of Fengate. Also uncovered was a group of post holes (tentatively dated to the Middle Bronze Age) a Late Bronze Age watering hole and an Early Iron Age pit.
During the archaeological monitoring and recording no archaeological features were recorded as only the topsoil was machine stripped from the designated area.
Item Type:
Client Report
Uncontrolled Keywords:
Cambridgeshire, cambridgeshire, Peterborough, peterborough, Fengate, fengate, archaeological excavation, excavation, Perkins Sports Association Club, perkins sports association club, Late Neolithic, late neolithic, Neolithic, neolithic, Bronze Age, bronze age, Early Bronze Age, early bronze age, Middle Bronze Age, middle bronze age, Late Bronze Age, late bronze age, Iron Age, iron age, Early Iron Age, watering hole, Late Bronze Age watering hole, late bronze age watering hole, pit, ditch, ditches, field system, Middle Bronze Age field system, middle bronze age field system, agriculture, drainage, drainage ditch, boundary, boundaries, boundary ditch, Grooved ware, Grooved Ware, grooved ware, Beaker, Beaker pottery, Beaker ware, Beaker Ware, beaker, beaker ware, pottery, sherd, vessel, Deverel-Rimbury ware, Deverel-Rimbury Ware, deverel-rimbury ware, Deverel-Rimbury form, Deverel-Rimbury forms, animal bone, bone, animal remains, flint, worked flint, lithic, lithics, lithic implement, polished jadeitite axehead, axehead, axe head, jadeitite, Oblique arrowhead, oblique arrowhead, arrowhead, Serrated blade, serrated blade, blade, scraper, flake, burnt stone, burnt flint, 2245, report 2245, Report 2245, OAE report 2245
Subjects:
Geographical Areas > English Counties > Cambridgeshire
Period > UK Periods > Bronze Age 2500 - 700 BC
Period > UK Periods > Bronze Age 2500 - 700 BC > Early Bronze Age 2500 - 1500 BC
Period > UK Periods > Iron Age 800 BC - 43 AD > Early Iron Age 800 - 400 BC
Period > UK Periods > Iron Age 800 BC - 43 AD
Period > UK Periods > Bronze Age 2500 - 700 BC > Late Bronze Age 1000 - 700 BC
Period > UK Periods > Neolithic 4000 - 2200 BC > Late Neolithic 2700 - 2200 BC
Period > UK Periods > Bronze Age 2500 - 700 BC > Middle Bronze Age 1600 - 1,000 BC
Period > UK Periods > Neolithic 4000 - 2200 BC
Divisions:
Oxford Archaeology East
Depositing User:

Hamilton

Date Deposited:
14 Nov 2018 11:18
Last Modified:
11 Jan 2019 11:49
URI:
http://eprints.oxfordarchaeology.com/id/eprint/4479
Actions (login required)