Beamish, Hugh (2009) Hatchlands Park, Surrey. Archaeological and Historical Landscape Survey. [Client Report] (Unpublished)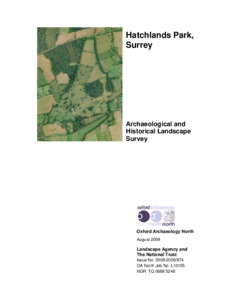 Preview
PDF




Full_Report_240909.pdf


Download (19MB) | Preview
Abstract
Oxford Archaeology North was commissioned by The Landscape Agency (on behalf of The National Trust) to conduct an archaeological and historical landscape survey of
Hatchlands Park, Surrey (centred on TQ 0688 5248). This was intended to record and evaluate the archaeological and historical features within the park and to inform the
management of the park. The survey was undertaken between April and June 2009.
The project has successfully achieved the key objectives, which were to undertake a landscape study (including the identification and recording of archaeological remains
within the park), to undertake a detailed measured survey of the most significant features identified during the project, and to implement a geophysical survey with the
specific aims of identifying a former service trench, and to investigate the possibility of tracing the site of the Tudor house.
The desk-based and topographic surveys have identified a wide range of archaeological features in the park, the majority of which can clearly be linked to the
early use of the land within the park as farmland prior to the early nineteenth century, or to the development of the designed landscape since the eighteenth century. These
features include ponds, former buildings and enclosures, various boundaries, extant and former quarries, and various features of the relict designed landscape. A selection
of these features were chosen for detailed measured survey, which focussed on features that either did not appear on historic maps or were influential on the evolution of the
historic landscape. Amongst these are the earthworks scattered over Fullers Hill, which proved to be mainly of eighteenth and nineteenth century origin, although the
former Grotto Pond may be earlier. A complex of boundaries was noted running east/west through the park, and which join the historic parish boundary running north from the old Epsom road. These boundaries may mark the northern and eastern edges of the manor in the sixteenth or seventeenth century.
Actions (login required)