Bullock, Vicki (2009) Moorhouse to Thurstonfield Pipeline, Moorhouse, Cumbria. Rapid Desk-based Research. [Client Report] (Unpublished)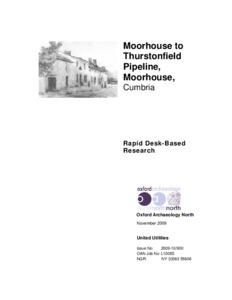 Preview
PDF




MoorhouseFullReport.pdf


Download (29MB) | Preview
Abstract
United Utilities proposed the construction of a pipeline from Bow, to the south of Moorhouse, Cumbria (NGR NY 33363 55606), following the B5307 road through Moorhouse village to Thurstonfield (NGR NY 33162 55661) approximately 1 mile to the west. The proposed development area lies a short distance to the south of Hadrian's Wall, a Scheduled Monument (SM no. CU2819) and a World Heritage Site,
and, consequently, a condition was placed on planning consent for the proposed development, comprising a programme of archaeological works. Cumbria County Council Historic Environment Service (CCCHES) recommended rapid desk-based
research was undertaken to investigate the application area in advance of the proposed development. In addition, a watching brief during the course of ground works for the
construction of the pumping station was also recommended. Oxford Archaeology North (OA North) was subsequently commissioned by United Utilities to undertake this work. The desk-based research was undertaken in December 2008. The watching brief will be subject to a separate report.
In total, 18 sites within the study area were identified as a result of the rapid deskbased research, eight of these were recorded in the HER and a further ten were added
as a result of consultation of historic maps. The results have been collated into a Gazetteer (Appendix 1) and are illustrated on Figure 2. The sites comprise six postmedieval
sites including the site of a windmill (Site 01), a corn mill/watermill (Site 05), a farmhouse/farmstead (Site 08), a tannery (Site 10), a smithy (Site 12), a Grade II listed hall (Site 18) and a modern boat house (Site 09). Also identified was the site of an early medieval Bow Stone (Site 11) and a medieval village (Site 02), a road (Site 06), former field boundary (Site 13) and a parish boundary (Site 14).
Actions (login required)