Schofield, Peter (2009) Martcrag Moor Axe Factory Sites, Great Langdale, Cumbria. Archaeological Recording Survey Report. [Client Report] (Unpublished)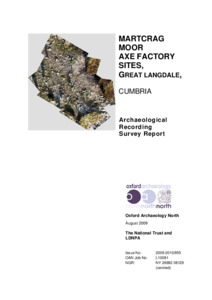 Preview
PDF




L10082_Final Report.pdf


Download (34MB) | Preview
Abstract
As part of the on-going work to improve footpaths within the Lake District National Park, Oxford Archaeology North (OA North) was invited by The National Trust to undertake an
archaeological survey and investigation of an area of axe working sites that had been exposed by footpath erosion on Martcrag Moor, Great Langdale (NGR NY 26992 08129).
The programme of work was intended to provide data to inform and guide forthcoming upland footpath conservation work and, specifically, to record the existing exposed limits
of each of the axe working sites before renewal works can be undertaken. The survey and recording was undertaken at various dates between September and October 2008.
The survey entailed a rectified photographic survey of each of the individual working floors, which were digitally corrected and superimposed upon a topographic survey of the
site. The rectified photographic survey provided a detailed record of the working floors and demonstrated that they had been subject to relatively little erosion, as most of the
flake scatters were relatively localised and had not significantly spread down slope.
The survey identified nine new archaeological sites and the largest of the sites (MC1) was in part preserved beneath an eroded peat hag. The hag was cleaned back in two sections
(one section on the western side of the hag and the other on the southern side) to clarify the archaeological character of the working floor and to enable the taking of a series of
monolith cores. The westernmost section revealed two distinct layers of axe working debris. The earliest (1003) was 0.15m thick, comprised many hundreds of densely-packed
small- to medium-sized flakes of fine-grained blue/grey tuff. The second axe working layer (1002) overlay and sealed the earlier axe working floor (1003) and comprised a
0.07m-0.13m thick deposit of densely-packed medium/large flakes. The dispersed flake material, along with rough-out axes originated from this upper layer. Above the axe
working floors was a single layer of homogenous humified blanket peat (1001) which was up to 0.55-0.65m deep.
Actions (login required)