Westgarth, Ailsa (2008) Lower Viaduct Estate, Carlisle, Cumbria. Archaeological Impact Assessment. Project Report. Oxford Archaeology North. (Unpublished)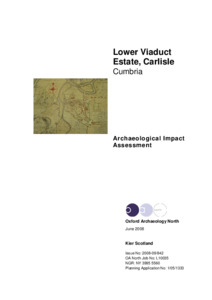 Preview
PDF




L10035 carlisle IA.pdf


Download (12MB) | Preview
Abstract
Following the submission of a planning application for a new Tesco supermarket on the Lower Viaduct Estate, Carlisle (planning application ref: 1/05/1333), permission has been granted with a condition to undertake a programme of archaeological investigation. The site was identified as having a high archaeological potential in a desk-based assessment previously undertaken (LUAU 2000), due to its position close to the Roman fort and vicus, and just outside of the medieval town walls. More recently, by 1900, the site contained a railway goods station and grain shed.
Consequently, a brief was issued by Cumbria County Council's Historic Environment Service (CCCHES) for archaeological evaluation trenching of the site covering a
minimum 5% random sample. Subsequent to this, information from geotechnical site investigation work, including borehole data, has indicated areas of made ground and
contamination from diesel from an on-site railway fuel storage tank. Therefore, CCCHES has agreed to a more targeted programme of evaluation trenching based on
the outcome of an impact assessment, taking into account the details of the proposed construction works.
Until recently, the site was occupied by a car showroom, car parking and the now demolished Council offices. The proposed development mainly consists of the foodstore building in the southern half of the site, and car parking in the northern half.
There is expected to be minimal intrusive work in the area of the car parking facilities, but the foodstore requires more intrusive foundations, consisting mainly of columns,
foundation pads and an edge beam. The main support will be in the form of vibropiling foundations inserted to a depth of between 4m-6m at a distance of approximately 1m centres below the foundation pads, and approximately 2.5m centres
below the main floor slab.
Actions (login required)