Way, Twigs (1998) Human Remains at St Mary Magdalene Churchyard, Ickleton. [Client Report] (Unpublished)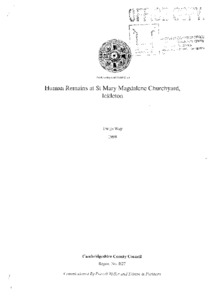 Preview
PDF




CCCAFU_reportB27.pdf


Available under License Creative Commons Attribution Share Alike.
Download (753kB) | Preview
Abstract
Archaeological recording was carried out during the excavation of a service trench associated with development at St Mary Magdalene Church, Ickleton. The trench was located along the south side of the present chancel, extending from the east wall of the south transept to the gate on the eastern boundary of the churchyard.
Disarticulated human remains were found to be concentrated within the western half of the trench within disturbed top and subsoil. In addition, four in-situ burials were recorded along the length of the trench, at depths varying between 0.60m and 0.80m below present day ground surface. Juveniles and infants formed a high proportion of all recovered human material. All in-situ burials were left undisturbed whilst disarticulated remains were recovered and then re-buried on site.
In addition a single fragment of St Neots Ware was recovered from close to the base of the foundations of the east wall of the south chancel.
Item Type:
Client Report
Uncontrolled Keywords:
Cambridgeshire, cambridgeshire, Ickleton, ickleton, St Mary Magdalene Church, St Mary Magdalene church, Church of St Mary Magdalene, church of St Mary Magdalene, human remains, human skeletal remains, HSR, hsr, bone, bones, skeleton, skeletons, disarticulated, disarticulated remains, disarticulated human remains, burial, burials, juvenile, infant, topsoil, subsoil, inhumation, inhumations, animal remains, animal bone, tooth, pig's tooth, pottery, ceramic, sherd, St Neots Ware, st neots ware, St Neots ware, reburial, reburial in-situ, in-situ, in situ, in situ remains, in-situ remains, in-situ burial, in situ burial, path, B27, b27, report B27, report b27, Report B27, Report b27, CCCAFU report B27
Subjects:
Geographical Areas > English Counties > Cambridgeshire
Period > UK Periods > Early Medieval 410 - 1066 AD
Period > UK Periods > Medieval 1066 - 1540 AD
Depositing User:

Hamilton

Date Deposited:
22 Nov 2018 08:28
Last Modified:
22 Nov 2018 08:28
URI:
http://eprints.oxfordarchaeology.com/id/eprint/4493
Actions (login required)