Kenney, S. (2002) A Roman Ditch and Post-medieval Pits at 36b St John's Road, Ely: Archaeological Observation. [Client Report] (Unpublished)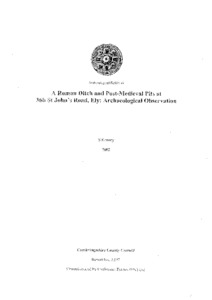 Preview
PDF




CCCAFU_reportA197.pdf


Available under License Creative Commons Attribution Share Alike.
Download (596kB) | Preview
Abstract
Archaeological observation has been carried out at 36b St John's Road, Ely, Cambridgeshire (TL 5337/8024) during the construction of nine dwellings and associated garages. The work was carried by the Archaeological Field Unit of Cambridgeshire County Council between 11th June and 19th December 2001.
An archaeological evaluation was conducted on the site during November 2000, and this revealed the presence of Late Iron Age and post-medieval remains.
All service trenches were examined for the presence of archaeological features, particularly where they crossed the line of the evaluation trenches. A ditch and two pits were observed, the former of which produced pottery dating from the early Roman period. These features, together with other recent finds nearby at West End and Chiefs Street, add further to the emerging picture of Roman Ely, of which little is currently known.
Item Type:
Client Report
Uncontrolled Keywords:
Cambrdigeshire, cambridgeshire, Ely, ely, Roman, roman, Roman pottery, roman pottery, pottery, sandy ware, Sandy Ware, Sandy ware, vessel, sherd, Vessel, Sherd, post-medieval, post medieval, Post-Medieval, Post Medieval, pit, pits, ditch, watching brief, Watching Brief, archaeological watching brief, Roman Ely, roman ely, A197, a197, report A197, report a197, Report A197, Report a197, CCCAFU report A197
Subjects:
Geographical Areas > English Counties > Cambridgeshire
Period > UK Periods > Post Medieval 1540 - 1901 AD
Period > UK Periods > Roman 43 - 410 AD
Depositing User:

Hamilton

Date Deposited:
27 Nov 2018 17:35
Last Modified:
27 Nov 2018 17:35
URI:
http://eprints.oxfordarchaeology.com/id/eprint/4496
Actions (login required)