Bayer, Olaf and Simmonds, Andrew and Welsh, Ken and Boardman, Sheila and Dunbar, Elaine and Hogg, Alan and Marshall, Peter and McKenzie, Jo and Quinnell, Henrietta and Reimer, Paula and Rutherford, Mairead and Shaffrey, Ruth (2017) DEVON ARCHAEOLOGICAL SOCIETY PROCEEDINGS No. 75 2017 Excavation of an early Bronze Age Round Barrow at Emmets Post, Shaugh Prior, Dartmoor. DEVON ARCHAEOLOGICAL SOCIETY (75). (Unpublished)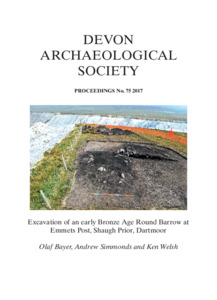 Preview
PDF




Emmets_Post_PDAS_75_2017.pdf


Download (25MB) | Preview
Abstract
Oxford Archaeology carried out an excavation of an early Bronze Age barrow at Emmets
Post, Dartmoor. The barrow comprised a primary turf mound and a central cairn beneath
a secondary turf mound with a stone kerb. No human remains were found. A radiocarbon
dating programme yielded a wide range of dates. Some derived from older material
incidentally incorporated within the turves during construction, but a date of 1750–1560
cal BC for the central area of the barrow may represent the true date of construction. The
landscape had been largely destroyed by modern quarrying, but present-day Lidar data and
contour data from historic maps were used to reconstruct the pre-quarry topography.
Actions (login required)