Bailey, Glenn and Spoerry, Paul (2005) Prehistoric and Medieval Remains at Barleyfields, The Chantry, Fulbourn. [Client Report] (Unpublished)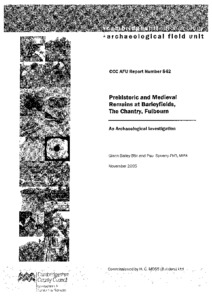 Preview
PDF




CCCAFU_report842.pdf


Available under License Creative Commons Attribution Share Alike.
Download (3MB) | Preview
Abstract
Between the 7th and the 14th September 2005 the Archaeological Field Unit of Cambridgeshire County Council carried out an archaeological investigation at Barleyfield, The Chantry, Fulbourn, Cambridgeshire. The work was conducted in advance of development of the land for housing.
Three trenches were excavated and well-preserved but slightly truncated features were found in all of them. The greatest density of features was found in Trench 3 along the northern edge of the site. Remains from excavated features suggest activity on the site from prehistory through to the present day. The majority of features, however, date to the medieval period, and perhaps to the 13th and 14th centuries in particular.
Artefact densities were generally average although some features produced significant amounts of butchered bone. Environmental preservation was good but the density of the cereal grains was quite low for agriculturally-based occupation features.
Item Type:
Client Report
Uncontrolled Keywords:
Cambridgeshire, cambridgeshire, Fulbourn, fulbourn, evaluation, Evaluation, archaeological evaluation, pit, pits, furnace, post hole, posthole, ditch, ditches, animal bone, animal remains, bone, butchery, butchery marks, Iron Age, iron age, Medieval, medieval, pottery, Pottery, Roman, roman, Saxon saxon, early medieval, Early Medieval, post-medieval, post medieval, Post-Medieval, Post Medieval, Post-medieval, Nene Valley colour coat beaker, roman pottery, Roman pottery, Saxon pottery, saxon pottery, Iron Age pottery, iron age pottery, sherd, vessel, ceramic, post-medieval pottery, Post-Medieval pottery, agriculture, agricultural, cultivation, ecofact, ecofacts, cereal grain, cereal grains, 842, Report 842, report 842, CCCAFU report 842
Subjects:
Geographical Areas > English Counties > Cambridgeshire
Period > UK Periods > Early Medieval 410 - 1066 AD
Period > UK Periods > Iron Age 800 BC - 43 AD
Period > UK Periods > Medieval 1066 - 1540 AD
Period > UK Periods > Post Medieval 1540 - 1901 AD
Period > UK Periods > Roman 43 - 410 AD
Depositing User:

Hamilton

Date Deposited:
26 Nov 2018 13:42
Last Modified:
26 Nov 2018 13:42
URI:
http://eprints.oxfordarchaeology.com/id/eprint/4502
Actions (login required)