Kemp, S. N. (1999) Roman and Medieval gravel pits along the Avenue, Cavalry Park, March. [Client Report] (Unpublished)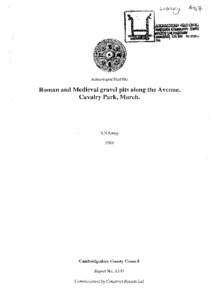 Preview
PDF




CCCAFU_reportA147.pdf


Available under License Creative Commons Attribution Share Alike.
Download (999kB) | Preview
Abstract
Between the 2nd and 19th of August 1999 the Archaeological Field Unit of Cambridgeshire County Council undertook field investigations at Cavalry Park, March. Archaeological investigations were undertaken in advance of a housing development by Construct Reason Ltd.
Nine trenches totalling 220m in length were machine excavated. In all cases bar Trench 1 which was furthest from The Avenue, a series of large pits of about 14m in diameter were identified. These are likely to be quarry pits for the extraction of sands and gravels. In the main they appear to be of medieval or post-medieval date, although one is probably Roman.
The quantity of Roman pottery recovered from the quarry pits indicates that Roman settlement was not solely located on the northern reaches of March Island as suggested by the cropmark evidence. The finds and archaeological features also suggest that the alignment of The Avenue and the north to south routeway which passes through March may be much older than originally thought. The routeway may have linked settlements on the south and central parts of March Island and even areas further to the south and close to the Fen Causeway which crossed the fens east to west.
In addition to the quarry pit three ditches were identified. Two of these run parallel with the modern field boundaries and are presumed to be medieval or post-medieval although no dating evidence was found. A further undated ditch was identified, orientated southeast to northwest. If the ditch is pre-medieval in date little is likely to survive given the intensity of quarry pit excavation in the medieval period.
Gravel extraction continued throughout the medieval and post-medieval periods. During modern times the land has been used as gardens and allotments.
Item Type:
Client Report
Uncontrolled Keywords:
Cambridgeshire, cambridgeshire, March, march, Roman, roman, Medieval, medieval, post-medieval, Post-Medieval, post medieval, Post Medieval, Cavalry Park, cavalry park, pit, pits, quarry pit, quarry pits, gravel, gravel extraction, The Avenue, the avenue, Fen, fen, Fens, fens, routeway, cropmark, cropmarks, ditch, ditches, field boundary, boundary ditch, pottery, ceramic, sherd, roman pottery, greyware, grey ware, Roman pottery, medieval pottery, post-medieval pottery, animal bone, animal remains, bone, the fens, the Fens, The Fens, March Island, march island, A147, a147, report A147, report a147, Report A147, Report a147, CCCAFU report A147
Subjects:
Geographical Areas > English Counties > Cambridgeshire
Period > UK Periods > Medieval 1066 - 1540 AD
Period > UK Periods > Post Medieval 1540 - 1901 AD
Period > UK Periods > Roman 43 - 410 AD
Depositing User:

Hamilton

Date Deposited:
12 Dec 2018 17:55
Last Modified:
12 Dec 2018 17:55
URI:
http://eprints.oxfordarchaeology.com/id/eprint/4505
Actions (login required)