Kemp, S. N. (1999) Archaeology within the eighteenth century gardens of Horseheath Hall, Horseheath, Cambridgeshire. [Client Report] (Unpublished)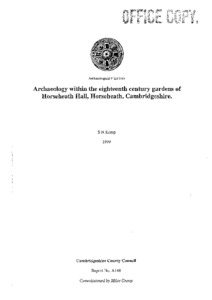 Preview
PDF




CCCAFU_reportA148.pdf


Available under License Creative Commons Attribution Share Alike.
Download (3MB) | Preview
Abstract
During July 1999 the Archaeological Field Unit of Cambridgeshire County Council undertook investigations within the gardens designed by William Kent at Horseheath Hall, Horseheath, Cambridgeshire. Investigations were undertaken to inform on the presence and nature of archaeological remains which might be affected by the proposal to excavate a pond on the northern side of Acre Pond.
Investigation identified cobbled and gravel surfaces located directly to the north and northwest of the boathouse and a grotto both of which are set against the northeast corner of Acre Pond. The cobbled surface is the remains of a track which led to the grotto designed by William Kent in the eighteenth century and formed part of a circular walk or ride around Acre Pond. The trackway is depicted on the 1769 plan of the Hall and parklands and bottle glass dated to the middle of the eighteenth century was recovered from the cobbled surface during rescue excavations at the Hall in 1990. The gravel surface was not depicted in 1769 however, this also probably dates to the late eighteenth century. This surface may have provided a hard standing next to the boathouse and grotto or may indicate an open space designed to give an advantageous view across the lake to the Hall.
The development will affect archaeological remains whose importance lies in their association with the Kent-designed garden. The trackway provided a circuit of Acre Pond and linked the grotto, boathouses, gardens and buildings which included an orangery, to Horseheath Hall. The remains of these buildings survive as earthworks around the pond and were surveyed by the Royal Commission for Historic Monuments in England in 1990.
Item Type:
Client Report
Uncontrolled Keywords:
Cambridgeshire, cambridgeshire, Horseheath, horseheath, Horseheath Hall, garden, William Kent, 18th century, eighteenth century, Eighteenth century, Eighteenth Century, post-medieval, Post-Medieval, post medieval, Post Medieval, surface, cobbled surface, circuit, ride, gravel surface, hard standing, boathouse, boat house, Acre Pond, acre pond, grotto, earthwork, earthworks, orangery, circuit walk, circuit ride, glass, sherd, shard, bottle, bottle glass, trackway, grotto pavilion, A148, a148, report A148, report a148, Report A148, Report a148, CCCAFU report A148
Subjects:
Geographical Areas > English Counties > Cambridgeshire
Period > UK Periods > Post Medieval 1540 - 1901 AD
Depositing User:

Hamilton

Date Deposited:
12 Dec 2018 20:36
Last Modified:
12 Dec 2018 20:36
URI:
http://eprints.oxfordarchaeology.com/id/eprint/4506
Actions (login required)