Kemp, S. N. (1999) Evaluation of the Medieval Village of Botolph Bridge, Orton Longueville, Peterborough. [Client Report] (Unpublished)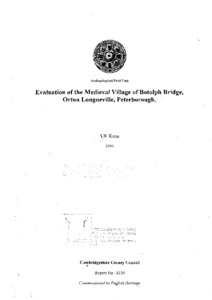 Preview
PDF




CCCAFU_reportA150.pdf


Available under License Creative Commons Attribution Share Alike.
Download (1MB) | Preview
Abstract
The site of the medieval village of Botolph Bridge, Orton Longueville, Peterborough is presently under threat from housing development. During the 1980s an earthwork survey and excavations within the manorial enclosure highlighted the importance of the site and suggested occupation for the middle Saxon period onwards.
This report describes recent evaluations by the Archaeological Field Unit (CCC) which have identified areas of major archaeological significance, separated by a hollow way which appears to have been a well-maintained medieval route way, paved and bounded by fences, with cobbled yards from adjacent properties backing straight onto the road boundaries. In earlier times the hollow way was demarcated by ditches.
On the south side of the hollow way are the remains of a medieval house with hearths, rubbish pits and yards. Artefacts recovered from this part of the site suggest that there is good preservation of activity areas and workshops.
On the northern side of the hollow way lies the enclosure of the medieval manorial site. Here rubbish pits offer comparable information from a high status property. The remains of a barn which lay in this enclosure was excavated in 1987. Boundary ditches within the enclosure suggest the expansion of the manorial site during the medieval period and the possible displacement of other village remains, implying settlement shift.
A number of Roman features, including rubbish pits, have also been recognised.
Item Type:
Client Report
Uncontrolled Keywords:
Cambridgeshire, cambridgeshire, Peterborough, peterborough, Orton Longueville, orton longueville, evaluation, Evaluation, archaeological evaluation, medieval, Medieval, Roman, roman, early medieval, Early Medieval, Saxon, saxon, Anglo-Saxon, anglo-saxon, holloway, hollow way, hollow, route, routeway, route way, cobble, yard, yards, building, structure, house, manor, enclosure, manorial complex, manorial enclosure, village, fence, fences, boundary, boundary ditch, boundary ditches, Maxey Ware, Maxey ware, maxey ware, pottery, sherd, ceramic, pot, brooch, St Neots Ware, St Neots ware, st neots ware, Medieval pottery, medieval pottery, A150, a150, Report A150 report A150, report a150, Report a150, CCCAFU report A150
Subjects:
Geographical Areas > English Counties > Cambridgeshire
Period > UK Periods > Early Medieval 410 - 1066 AD
Period > UK Periods > Medieval 1066 - 1540 AD
Period > UK Periods > Roman 43 - 410 AD
Depositing User:

Hamilton

Date Deposited:
08 Mar 2019 13:06
Last Modified:
08 Mar 2019 13:06
URI:
http://eprints.oxfordarchaeology.com/id/eprint/4507
Actions (login required)