Collie, Tom (2018) Progress Power Project, Land West of A140, Yaxley, Suffolk. [Client Report] (Unpublished)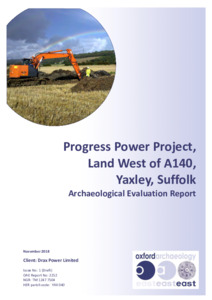 Preview
PDF




2252_Progress Power_YAX 040 eval V1_LR.pdf


Download (6MB) | Preview
Abstract
Between the 3rd to the 8th October 2018, Oxford Archaeology East conducted an archaeological evaluation at land west of the A140, Yaxley, Suffolk, centred TM 1247 7504.
A total of 11 30m-long evaluation trenches were excavated along the footprint of a proposed access road between Leys Lane and the A140. Six of the trenches contained archaeological features, including nine ditches, one pit and one post hole. The earliest securely-dated features were located at the northern end of the site and comprised two ditches and a pit yielding medieval pottery of the 11th-14th century. Historic mapping suggests that that these were linked to Green-edge/Common-edge settlement to the west of Pye Road – a former Roman road located along the line of the A140.
A series of other ditches aligned broadly north to south and east to west followed the dominant axis of existing fields, and correspond to boundaries depicted on the 1885 Ordnance Survey First Edition map of Yaxley. By contrast, at the far western side were three other ditches on a north-east to south-west alignment. These may pre-date the orientation of historic field boundaries, and are potentially of Roman origin.
Item Type:
Client Report
Uncontrolled Keywords:
Suffolk, suffolk, Eye, eye, Yaxley, yaxley, Eye Airfield, eye airfield, evaluation, archaeological evaluation, roman, Roman, Medieval, medieval, ditch, ditches, medieval ditch, medieval, ditches, pottery, ceramic, sherd, vessel, medieval pottery, Pye Road, pye road, Waveney Valley coarseware, waveney valley coarseware, animal bone, animal remains, bone, nail, field system, settlement, agriculture, cultivation, 2252, report 2252, Report 2252, CCCAFU report 2252
Subjects:
Geographical Areas > English Counties > Suffolk
Period > UK Periods > Medieval 1066 - 1540 AD
Period > UK Periods > Roman 43 - 410 AD
Divisions:
Oxford Archaeology East
Depositing User:

Hamilton

Date Deposited:
03 Dec 2018 10:42
Last Modified:
03 Dec 2018 10:42
URI:
http://eprints.oxfordarchaeology.com/id/eprint/4518
Actions (login required)