McPhillips, Sean (2008) Chorlton Fold, Eccles, Greater Manchester. Post-excavation Assessment. Project Report. Oxford Archaeology North. (Unpublished)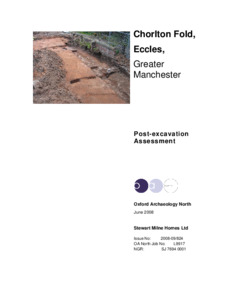 Preview
PDF




Full report 210409.pdf


Download (23MB) | Preview
Abstract
In 2006, Stewart Milne Homes Ltd submitted a planning application to Salford City Council for the demolition and redevelopment of Chorlton Fold Farm, situated in Monton, near Eccles, Greater Manchester (SD 7694 0001). The farm had formed part of a hamlet known as Chorlton Fold since at least the eighteenth century, and the site was considered to have a good potential to contain buried remains of archaeological significance. In particular, recent investigations on an adjacent site immediately to the
north revealed the remains of a ditch, a metalled surface, and iron-smelting debris, probably of a late medieval date (UMAU 2007). Moreover, previous archaeological
investigations undertaken to the west of Chorlton Fold at Ellesmere Park revealed a well-preserved section of the Roman road between Manchester and Wigan (Rabbitt 2005), the course of which was projected to run through Chorlton Fold.
In order to secure archaeological interests, the Greater Manchester County Archaeologist, in consultation with the Salford Conservation Officer, recommended that an archaeological condition was attached to the planning consent for the development. In the first instance, an archaeological building survey of the extant structures was required, coupled with historical research. Once the buildings had been demolished, a programme of field evaluation was required, which was intended to assess the nature, extent, and significance of buried archaeological remains in advance of development work. Both elements of the archaeological investigation were carried out by Oxford Archaeology North (OA North); the building survey was undertaken in 2006, and the evaluation was completed in August 2007.
Actions (login required)