Clapperton, Kelly (2007) Land to the West of Norton Priory, Cheshire. Archaeological Evaluation. [Client Report] (Unpublished)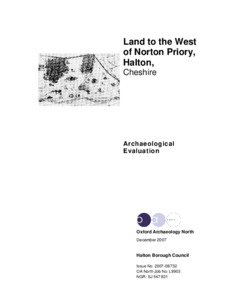 Preview
PDF




Land to West of Norton Priory Eval Report.pdf


Download (15MB) | Preview
Abstract
Oxford Archaeology North (OA North) was commissioned by Halton Borough Council to undertake an archaeological evaluation of 14ha of rough pasture and marshland, formerly playing fields, to the west of the scheduled monument of Norton Priory (SAM 66/1/0), Halton, Cheshire (centred on SJ 547 831, Fig 1) in August 2007. The area under archaeological evaluation lies immediately to the west of the scheduled area. Nine trenches were excavated, ranging from 10m x 2m to 20m x 2m, and targeted specific anomalies and sites identified during a geophysical survey undertaken by OA North in 2006, and an archaeological desk-based assessment carried out by OA North in 2002. The key features targeted were the millpond (Site 31, OA North 2002; Trenches 4-5), the square cropmark (Site 38) identified from
aerial photographs (ibid; Trench 7), the main monastic drain (Trench 6), the line of which was meant to project from the Priory into the site (Mark Leah pers comm), and
the possible remains of the mill to the north (Site 32, OA North 2002; Trenches 8-9). The remaining trenches were positioned to assess the potential for any further remains
(Trenches 1-3).
Actions (login required)