Blackbourn, Kathryn (2017) Medieval settlement along Central Avenue, RAF Brampton, Cambridgeshire. [Client Report] (Unpublished)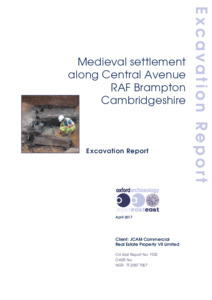 Preview
PDF




Report 1993_LR.pdf


Available under License Creative Commons Attribution Share Alike.
Download (3MB) | Preview
Abstract
From September to October 2016 Oxford Archaeology East undertook a series of excavations and evaluations on the site of the former RAF Brampton. This phase of work followed on from an excavation conducted in March and April 2016 where features dating to the Iron age, Roman and post-medieval periods were uncovered including eight Roman pottery kilns. This second phase of work targeted potential areas of preserved archaeology under former roads which were due to be removed. Much of RAF Brampton has previously been built on leading to the ground conditions being poor and many archaeological features being badly truncated. However areas of preservation were recorded during this phase of work.
After evaluation, an area along Central Avenue measuring 35m x 54m was excavated. The remainder of Central Avenue was badly truncated by modern buildings and services and any archaeology which was present had been destroyed. An evaluation along Farendon Road also identified no preservation of any archaeological remains.
The excavation area contained a number of features dating to the medieval period. These included pits, enclosure ditches, beam slots and a large well which yielded finds such as pottery, bone, CBM and stone as well as a wooden structure at its base. Two main phases were identified, Medieval Phase 1 dated from the 12th to 14th century. This phase comprised Structure 1 in the centre of the site consisting of a number of beam slots on a north-west to south-east and north-east to south-west alignment. An enclosure was also noted along the east end of the site comprising two ditches with a north-east to south-west alignment and a single ditch with a north-west to south-east alignment. A number of pits have also been assigned to this phase, most likely used for gravel extraction or rubbish disposal.
A phase of activity dating from the 14th to 16th centuries (Medieval Phase 2) is recorded in the north and south of the site. This phase consisted of pits, ditches, beam slots and well 453 to the north. This well appeared to be in use from the 15th to 16th century with a wooden structure at its base consisting of a number of planks and stakes that seem to have been re-used from other wooden structures, perhaps the earlier structures. This well was capped in the post-medieval period. The partial remains of Enclosure 2 has been assigned to this phase too due to its difference in alignment to the earlier enclosure and structure.
Approximately 15% of the excavation area was truncated by deep modern features related to the construction of RAF Brampton. However this small excavation area provides evidence for two phases of occupation on the site from the 12th to the 16th centuries. The first phase of activity (12th to 14th century) comprises Structure 1, Enclosure 1 and a series of gravel extraction pits with the pottery assemblage being typical of rural occupation during the medieval period. The second phase (14th to 16th century) comprised Structure 2, Enclosure 2 and well/tank 453 and was spatially different to phase 1and perhaps represented activity taking place on the periphery of a domestic settlement. The archaeological features uncovered and their phases appear to directly correlate to the activity recorded at Brampton House throughout the medieval and into the post-medieval period.
Item Type:
Client Report
Uncontrolled Keywords:
Cambridgshire, cambridgeshire, Brampton, brampton, RAF, raf, RAF Brampton, raf brampton, archaeological excavation, excavation, medieval, Medieval, pit, enclosure ditch, ditch, beam slot, well, structure, wooden structure, well structure, wood, preserved wood, pottery, ceramic, sherd, animal remains, animal bone, animal bones, bone, gravel extraction, rubbish disposal, plank, stake, cap, well cap, building, Brampton House, medieval pottery, 1993, report 1993, Report 1993, OAE report 1993
Subjects:
Geographical Areas > English Counties > Cambridgeshire
Period > UK Periods > Medieval 1066 - 1540 AD
Period > UK Periods > Post Medieval 1540 - 1901 AD
Divisions:
Oxford Archaeology East
Depositing User:

Hamilton

Date Deposited:
11 Dec 2018 15:12
Last Modified:
11 Dec 2018 15:12
URI:
http://eprints.oxfordarchaeology.com/id/eprint/4535
Actions (login required)