Gregory, Richard (2016) Cutacre, Bolton, Greater Manchester. Archaeological Analysis Report. Project Report. Oxford Archaeology North. (Unpublished)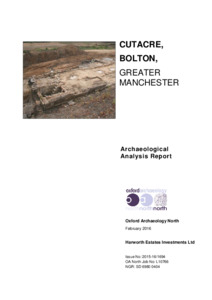 Preview
PDF




L10766_Cutacre_FullRep_Feb16.pdf


Download (21MB) | Preview
Abstract
This report forms part of the culmination of post-excavation analysis relating to the archaeological investigations at Cutacre, Greater Manchester (NGR: centred SD 6980 0404). The work has been funded by Harworth Estates Investments Ltd
and follows a series of recommendations made in earlier archaeological assessments. The analysis has focused on the data derived from three sites in the Cutacre area that were subjected to open-area excavation: Ashes Farm (NGR: SD
6938 0420); Cinder Hill (NGR: SD 693 040); and Wharton Hall (NGR: SD 7070 0370). The analysis has included a detailed reconsideration of the stratigraphic data derived from these sites, to produce a robust stratigraphic narrative, along
with a concomitant programme of radiocarbon dating, and the analysis of pollen, charred plant remains, and archaeometallurgical residues. In addition, the results
from an assessment of specific groups of artefacts have been considered and incorporated into this report.
The analysis identified three broad periods of landscape use in the Cutacre area. The earliest of these was identified at Cinder Hill and is prehistoric in date. It comprised an early phase of activity, dating either solely to the Late Mesolithic period, or extending between the Mesolithic and Early Bronze Age, which may have involved the felling/uprooting of trees. Significantly, this site also contained evidence for later prehistoric activity. This took the form of a small settlement, which has been dated to the Middle Bronze Age (c 1500-1100 BC). The settlement
comprised a single roundhouse and two sequential four-post structures which, on the basis of the analysis of charred plant remains, may have functioned as malting floors. Apart from the plant remains, this settlement also produced a small assemblage of Middle Bronze Age pottery.
Actions (login required)