McPhillips, Sean and Wild, Chris (2007) Bengal Street Block, Beehive Mills, Ancoats, Manchester. Archaeological Excavation. Project Report. Oxford Archaeology North. (Unpublished)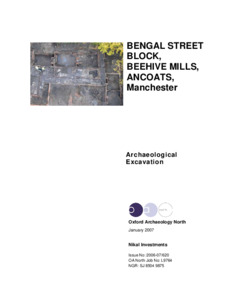 Preview
PDF




Bengal Street Mill_Archaeological Excavation.pdf


Download (8MB) | Preview
Abstract
Nikal Investments has proposed a scheme of redevelopment for a mixed residential and commercial end-use at 45 – 47 Bengal Street (centred on NGR SJ 8504 9875), within the Ancoats area of Manchester. Until recently, No 45 Bengal Street was
occupied by a light industrial unit and associated yard, whilst a disused 19th-century textile mill occupied No 47 Bengal Street. During July 2005, this mill building was
destroyed by a catastrophic fire, which resulted in the collapse of the bulk of the structure. Elements of the building that did survive, however, included some structures of archaeological significance. Whilst the perilous structural nature of these remains necessitated their demolition as a matter of urgency, a rapid programme of
archaeological survey was recommended in advance of their ultimate loss to ensure a record of the structural remains was compiled. In accordance with this recommendation, Oxford Archaeology North (OA North) was commissioned to undertake the survey in August 2005, which was coupled with a desk-based assessment, which identified a potential for buried remains of archaeological significance to survive on the site.
Following on from the building survey and the desk-based assessment, Nikal Investments commissioned OA North to undertake an evaluation of the site to assess the presence or absence of buried archaeological remains, which was required to support a planning application for the redevelopment of the site. The evaluation was undertaken in October 2006, and revealed that extensive archaeological remains survived in-situ across the site. Following consultation with the Assistant County Archaeologist for Greater Manchester, it was recommended that a programme further excavation was implemented to provide a detailed mitigation record of the remains in advance of their ultimate destruction. Excavation was targeted on the remains of cellar dwellings adjacent to the Bengal Street and Jersey Street frontages, workers' housing on Shilling Court and Holditch's Court, the steam-power plant associated with the Bengal Street block, and a boundary ditch that had formed part of the pre-urbanised landscape of Ancoats. This work was undertaken in December 2006, and exposed archaeological remains of high local, or even regional significance. In particular, the physical remains of cellar dwellings dating from the late 18th and early 19th century were exposed.
Actions (login required)