Clapperton, Kelly (2006) Flass Lane, Barrow-In-Furness, Cumbria. Archaeological Desk-Based Assessment and Evaluation. Project Report. Oxford Archaeology North. (Unpublished)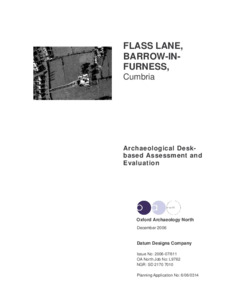 Preview
PDF




9762flass.pdf


Download (20MB) | Preview
Abstract
During October 2006 Oxford Archaeology North (OA North) carried out a desk-based assessment and evaluation trenching at Flass Lane, Barrow-in-Furness, Cumbria (NGR SD 2170 7010), as requested by Datum Design Company as part of a planning application for a nursing home (planning ref. 6/06/0314). Documentary and cartographic evidence, the earliest mapping dating from the eighteenth century,
indicated that little or no significant activity had taken place on the site, and that it had been laid down to farmland. However, it was known to be part of a grange belonging to Furness Abbey from the fifteenth century. Evidence from the local Historic Environment Records (HER) in Kendal suggests a prehistoric presence in the area,
with two stone axes (HER 2304 and 5600) found within 500m of the proposed development.
During the evaluation, eleven trenches were excavated within the identified areas of development impact, three of which contained features of possible archaeological significance. Two ditches, 112 and 113, were observed in Trenches 6 and 11. No finds or dating evidence were recovered from any of the fills, 110, 111, 114 and 121, and they do not appear on any edition of the Ordnance Survey (OS), so may predate the
mid nineteenth century. In Trench 2, two small pits were identified, 105 and 107, the former containing a small fragment of late Roman pottery, probably dating to the
fourth or fifth centuries AD. These had been heavily truncated by root action, and are probably isolated features, and therefore, their significance could not be ascertained.
More recent features were identified as two fence postholes, 109 and 120, in Trenches 6 and 10 respectively, which probably relate to the fence identified on the 1957 OS
map, and two shallow modern linears, 116 and 118, in Trenches 8 and 10. Due to the close proximity and modern material within linear 118, it may relate to the
construction of the houses to the south during the first half of the twentieth century.
Actions (login required)