Bashford, Robin Phase 1 Area: Somerville College, Walton Street, Oxford. [Client Report] (Unpublished)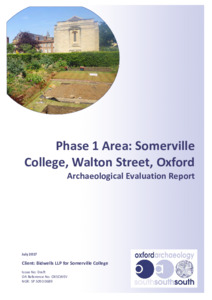 Preview
PDF




OXSCW17.pdf


Download (7MB) | Preview
Abstract
Oxford Archaeology (OA) was commissioned by Bidwell LLP on behalf of
Somerville College to undertake a trial trench evaluation at the site of the
proposed Catherine Hughes Building, Somerville College, Walton Street,
Oxford (SP 5093 0689).
The evaluation revealed the top of the second terrace gravel which in one
trench was overlain by a layer of post‐glacial brickearth. A number of features
were revealed which had fills that were predominantly composed of redeposited
brickearth and gravel, which elsewhere in the city has been
indicative of prehistoric or late Saxon features. However, a single sherd of 12th‐
14th century pottery was recovered from a soil sample taken from the fills of
one of these features, which may indicate a later date for some fills of this
nature where they are encountered on the periphery of the core of the
medieval city.
With the exception of these features, little evidence for medieval occupation
was revealed within the trenches, which probably reflects the fact that the
area now occupied by Somerville College almost certainly lay within open
fields in the medieval period.
A north‐south aligned linear feature was revealed within a trench in the southwestern
corner of the site. The fills of this feature produced artefactual
material dating to the late‐17th‐early‐18th centuries, and it almost certainly
correlates to part of the Civil War defensive network around the city, as
illustrated by Bernard de Gomme in 1644. The dating evidence is also
consistent with the fact that this section of the earthwork is shown as extant
on David Loggan's later plan of 1675. A series of deeply stratified deposits of
a similar date was also revealed in a trench to the north‐east of this feature.
Although the extent of these deposits was not revealed within the confines of
the trench, it seems likely that they represent the backfill of the eastward
return of the north‐south aligned feature described above.
A number of walls were revealed which broadly correlate with structures
shown on the OS 1st edition map of 1876. Additionally, the majority of the
trenches contained a series of large 19th‐century pits which almost certainly
represent occupation associated with these properties. A stone‐lined well of
similar date was also revealed.
Actions (login required)