McPhillips, Sean (2006) Middlemoor Windfarm, North of Alnwick, Northumberland. Archaeological Evaluation. Project Report. Oxford Archaeology North. (Unpublished)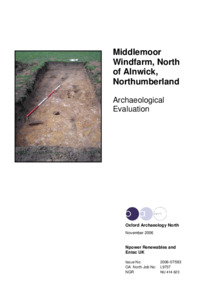 Preview
PDF




L9737ArchEvalRep.pdf


Download (18MB) | Preview
Abstract
A proposal to erect a windfarm of 18 turbines at Middlemoor, North Alnwick (centred on NU 414 623) (Fig 1), has been submitted by Npower Renewables (NR 2005). Oxford Archaeology North (OA North) were invited by Robert Johns of Entec UK, acting on behalf of Npower Renewables, to undertake an archaeological evaluation to inform a planning application for the development. The evaluation was undertaken during August 2006 and entailed the excavation of 95 trenches.
The evaluation identified undated archaeological features in several areas, particularly in the vicinity of Turbine 18 (Trench 91) south of Victory Wood and Turbine 15 (Trench 87)
within Linkhall Moor, both of which lie within the southern part of the development. These remains comprised a ditch and pits of potential prehistoric date. In addition, further
remains of archaeological potential were encountered at the substation compound area, and across the proposed sites of Turbines 6, 9, 11, 12 and 14. The remains from these sites
were mostly post-medieval in origin, and included a back-filled water-course and ridge and furrow in the vicinity of Hughe's Wood (Trenches 33 and 36 (Substation / Compound
area)), old fence lines forming field boundaries (Trench 61 (Turbine 6) and Trench 75 (Turbine 11)), plough-marks (Trenches 8, 9, and 18 (Borrow Pit), and Trenches 52
(Turbine 1), 71 (Turbine 9), 73 (Turbine 10), 76 (Turbine 11) and 78 (Turbine 13)). There were also a number of nineteenth century land drains (Trenches 5 (Borrow Pit), Trenches 36 , 37 and 39 (Sub-station / compound) , and Trenches 47 (Turbine 5), 60-62 (Turbine 6), 75 (Turbine 11) and 85 (Turbine 16).
Actions (login required)