Bates, Andy (2006) Land at Gawthorpe High School, Burnley Road Padiham, Lancashire. Archaeological Evaluation. [Client Report] (Unpublished)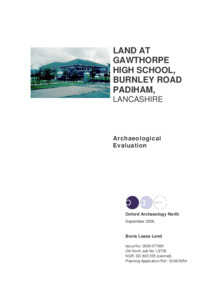 Preview
PDF




Gawthorpe High Report.pdf


Download (12MB) | Preview
Abstract
A planning application (ref: 12/06/0354) was submitted by Catalyst Education Ltd, acting on behalf of Lancashire County Council, for the demolition of Gawthorpe High School, Burnley Road, Padiham, Lancashire (NGR centred SD 803 335) and the construction of a community college, Shuttleworth College. A new road and turning circle is to be constructed, as part of the new development, over the former Gawthorpe
Colliery that appears on the first edition six inch Ordnance Survey map, 1848. Therefore, Lancashire County Archaeological Services (LCAS) advised the local planning authority that a condition should be imposed on the planning consent for a programme of archaeological evaluation, to assess the archaeological significance of the site. A brief was issued by LCAS detailing the requirements. In accordance with this, Oxford Archaeology North (OA North) was commissioned by Bovis Lend Lease, acting on behalf of Catalyst Education Ltd, to excavate a single evaluation trench, 10m in length and 2m wide, in the area of impact by the development over the location of the colliery.
The excavation of the trench showed that a layer of stone chippings, 112, upon which the current tarmac surface, 111, had been laid, was located directly above the glacial till.
It is suggested that this area had been truncated to possibly below the original level of glacial till, removing any structural remains of the Gawthorpe Colliery buildings. Within the evaluation trench, culvert 109 was identified, considered to be contemporary with the colliery workings, although no dating evidence was retrieved. This led from the
former colliery in the direction of the River Calder. No finds were retrieved from the evaluation trench.
Actions (login required)