Bates, Andy (2006) Land at Walton High School,Oxford Road, Pendle, Lancashire. Archaeological Evaluation. Project Report. Oxford Archaeology North. (Unpublished)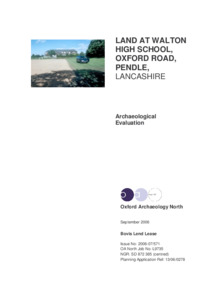 Preview
PDF




Walton High Report.pdf


Download (36MB) | Preview
Abstract
A planning application (ref 13/06/0278) was submitted by Catalyst Education Ltd, acting on behalf of Lancashire County Council, for the demolition of Walton High School, Pendle, Lancashire (NGR centred SD 872 385) and the construction of a secondary community college to be known as Pendle Vale College. The proposed development shows that the area of a pedestrian entrance and the south-west corner of
an all-weather pitch are to be situated over the former buildings of White Yates, a farmstead that appears on the Ordnance Survey (OS) First Edition maps of 1848 and
1893. Consequently, a condition of the planning consent was that an archaeological investigation must be undertaken prior to development to establish the archaeological
significance of the site. An archaeological brief was issued by Lancashire County Archaeological Services (LCAS) detailing the required archaeological work. Oxford
Archaeology North (OA North) was subsequently contracted by Bovis Lend Lease, acting on behalf of Catalyst Education Ltd, to excavate a single evaluation trench,
measuring 10m x 2m, in the area previously occupied by White Yates in compliance with this brief.
Two layers of levelling deposits, 105 and 106, were identified across the area of the evaluation trench, dating to the twentieth century. Directly below these deposits glacial till, 107, was located that appeared to have been disturbed by twentieth century landscaping. A single cess pit was identified at the south-western end of the trench, dating to the nineteenth or twentieth centuries; it was at least 1.2m in depth. From mapping evidence, it would appear that the cess pit, if it belonged to an outside toilet,
would actually be positioned within the probable dwelling of White Yates. It could also be speculated that this cess pit was associated with the allotments that later replaced
White Yates in the first half of the twentieth century, located on the land now occupied by Walton High School.
Actions (login required)